I chose Snowdonia National Park as the first location to experience UK mountains.
I have good friends who live in Llanberis and its also the location of my future mountain leader training, so if felt like the right place to start.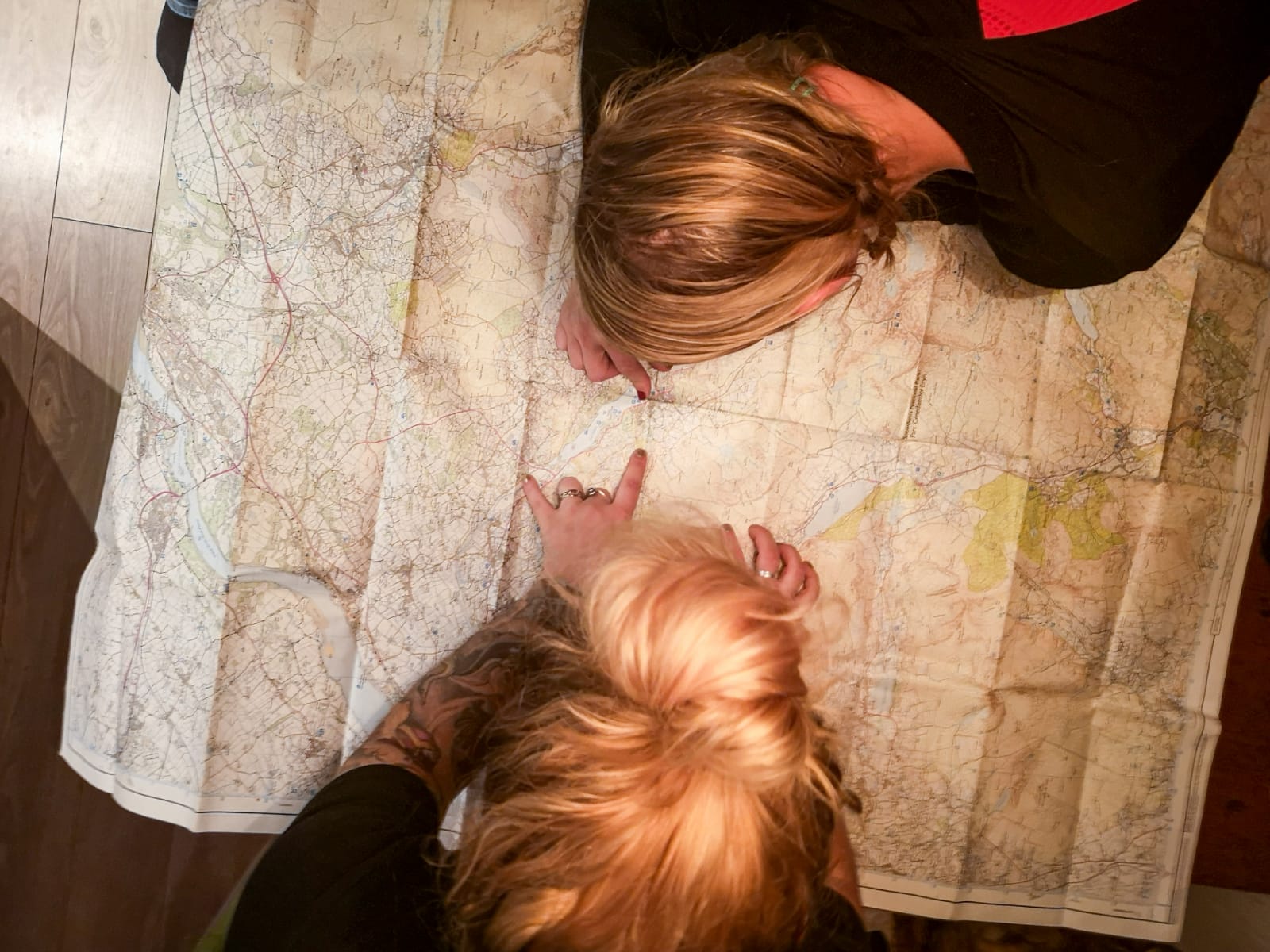 The information you get from a local about hikes in the area or dangers on a specific hike are second to none.
If you don't know anyone in the area, try a local sports shop like Joe Brown's in Capel Curig or Rumdoodles coffee shop in Llanberis.
You'll find fellow outdoor enthusiasts are only too happy to share their knowledge and experience with you.
Most outdoor shops and petrol stations will also usually stock local guidebooks and maps for the area.
Get these a few days in advance and spend some time reading over the routes available and locating them on the map.
For my Mountain Leader training, I needed hikes of at least 5hrs and 600m in ascent so this gave me a guideline to work to.
HIKE ONE: Mont Eilio Circuit from Llanberis
For my first hike, my friend Meg recommended a circuit starting from Llanberis to the summit of Mont Eilio (hereby known as Molly Olly).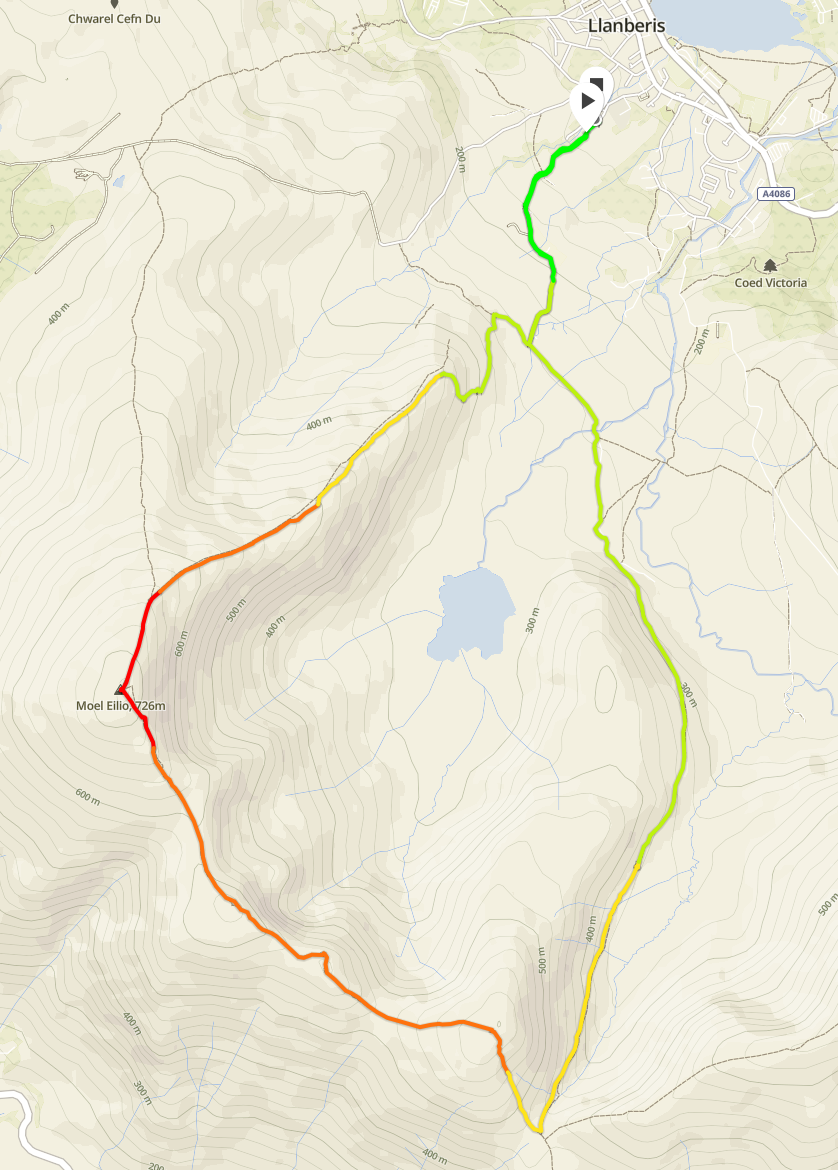 At 675m and 11.46km's this hike suited my current capabilities and also began and finished at Meg's house, so she would know if we didn't return at a decent hour.
It also featured in my guidebook with clear instructions, although I still managed to get a little lost at the start.
One thing about UK hiking trails, they aren't all sign-posted and it's easy to lose the trail so always plan your route.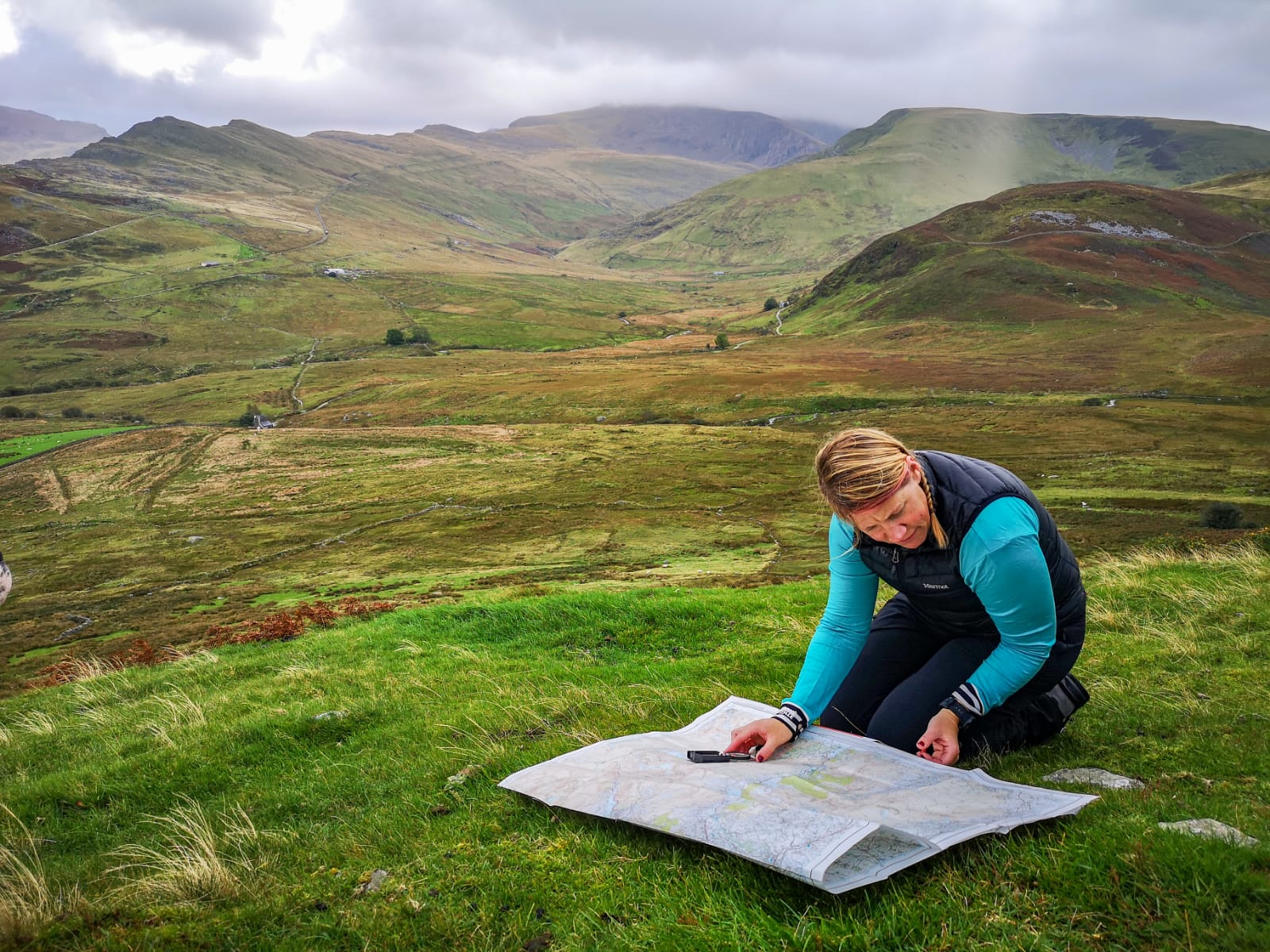 Mont Eilio was a lovely first introduction to the UK mountains.
A long steady climb to the top on stable terrain where we stopped for a snack inside a surprisingly well built concrete wind shelter.
Followed by a trot along an exceptional ridge-line with views back to Snowdon and return via established farming roads to Llanberis.
This was my first time hiking more than 2 hours and first mountain summit.
By the time we got home my legs and feet were heavy and swollen but I was happy with our achievement and a well deserved Crabbies waiting at the end.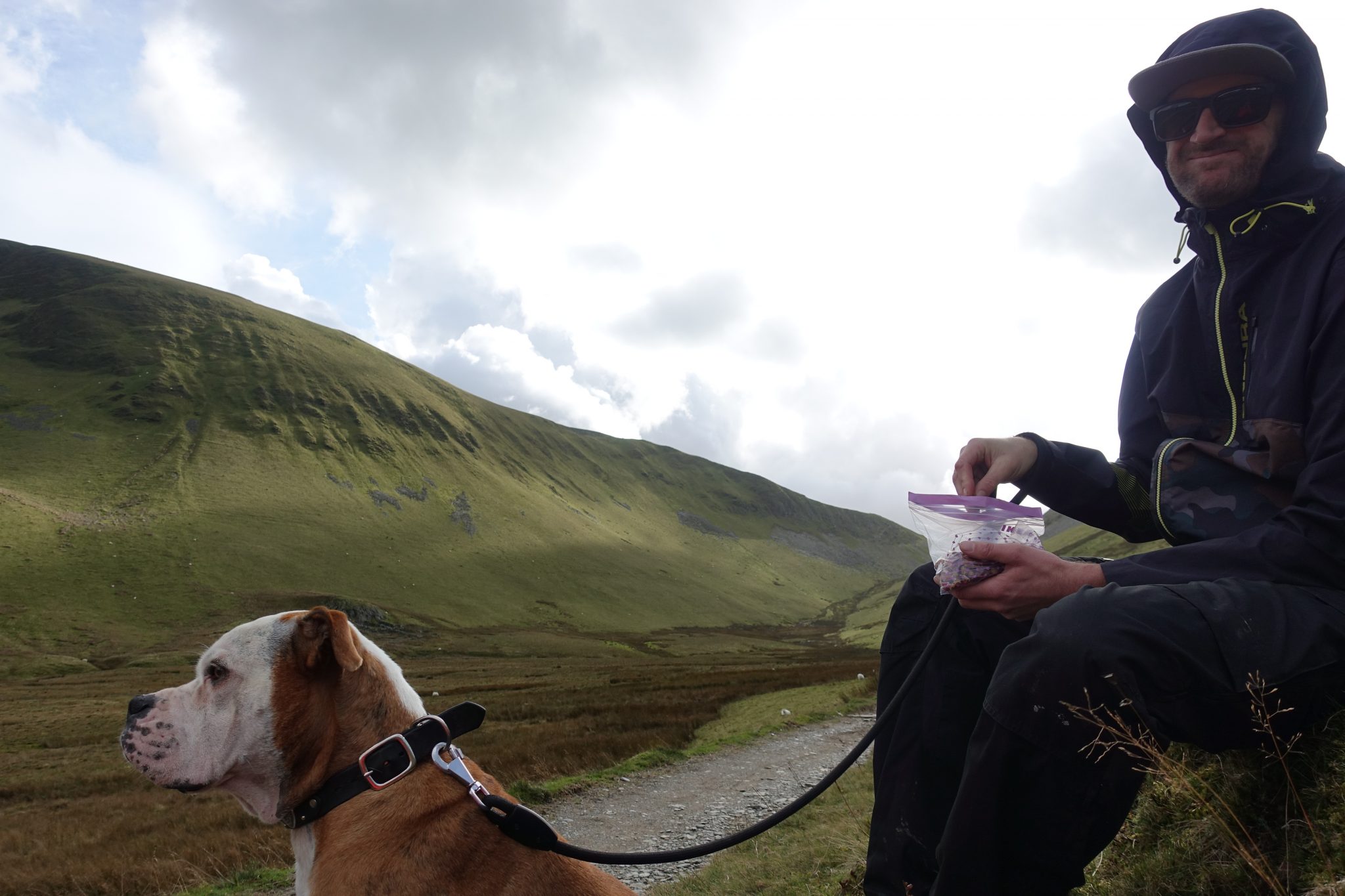 HIKE TWO: Mynydd Mawr from Rhyd-Ddu
For my second hike, I selected Mynydd Mawr – otherwise known as elephant mountain.
With a distance of 11.17km and a vertical climb of 761m, plus a lovely walk through the forest, this suited our energy levels and the ability to take our dog, Storm.
The ascent was longer and more complex than Mont Eilio, with two false summits to add to the excitement. But finally we made it to the top.
We selected to make this a circular route and followed the path in the guidebook which suggested veering off the main path at the 2nd summit across a field of heather and crossing the river to follow a faint path.
Turns out on this occasion it was more like no path.
We finally found the path again using visual cues listed in the guidebook, only to find a couple stranded at the bottom of the gully with no obvious way out.
By referencing the guidebook and map, Toby and I were able to locate the trail, which went through a small crevasse and crossed a river before re-joining the forest path.
Had Toby not been with me, I'm not sure what we would have done. Most likely retraced our steps back to the top of the trail – approx. 300m above!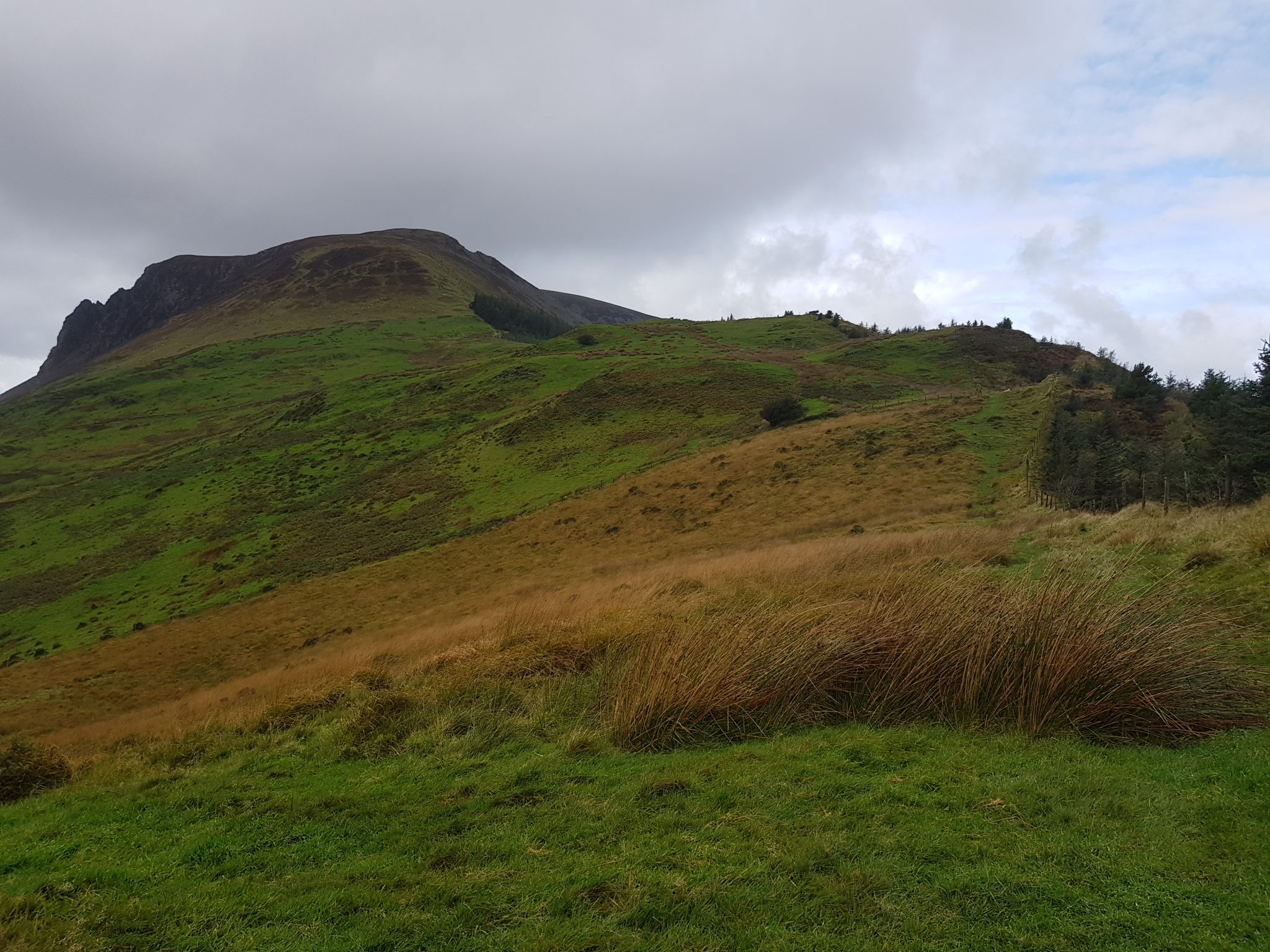 HIKE THREE: Glyder Fach & Glyder Fawr from Llyn Ogwen
Hike 3 was my first solo mission and I chose Glyder Fach and Glyder Fawr.
At 9.86km, and 860m this was a big step up for me.
I headed out feeling confident following the guidebook and tracing my location on the map, but oh, did I still have a lot to learn!
The ascent up the miner's path was straight-forward, following the cobble stone path.
Crossing the small river by jumping boulders took a few attempts due to residual instability from my accident in 2016, confidence, and the new weight of carrying a backpack.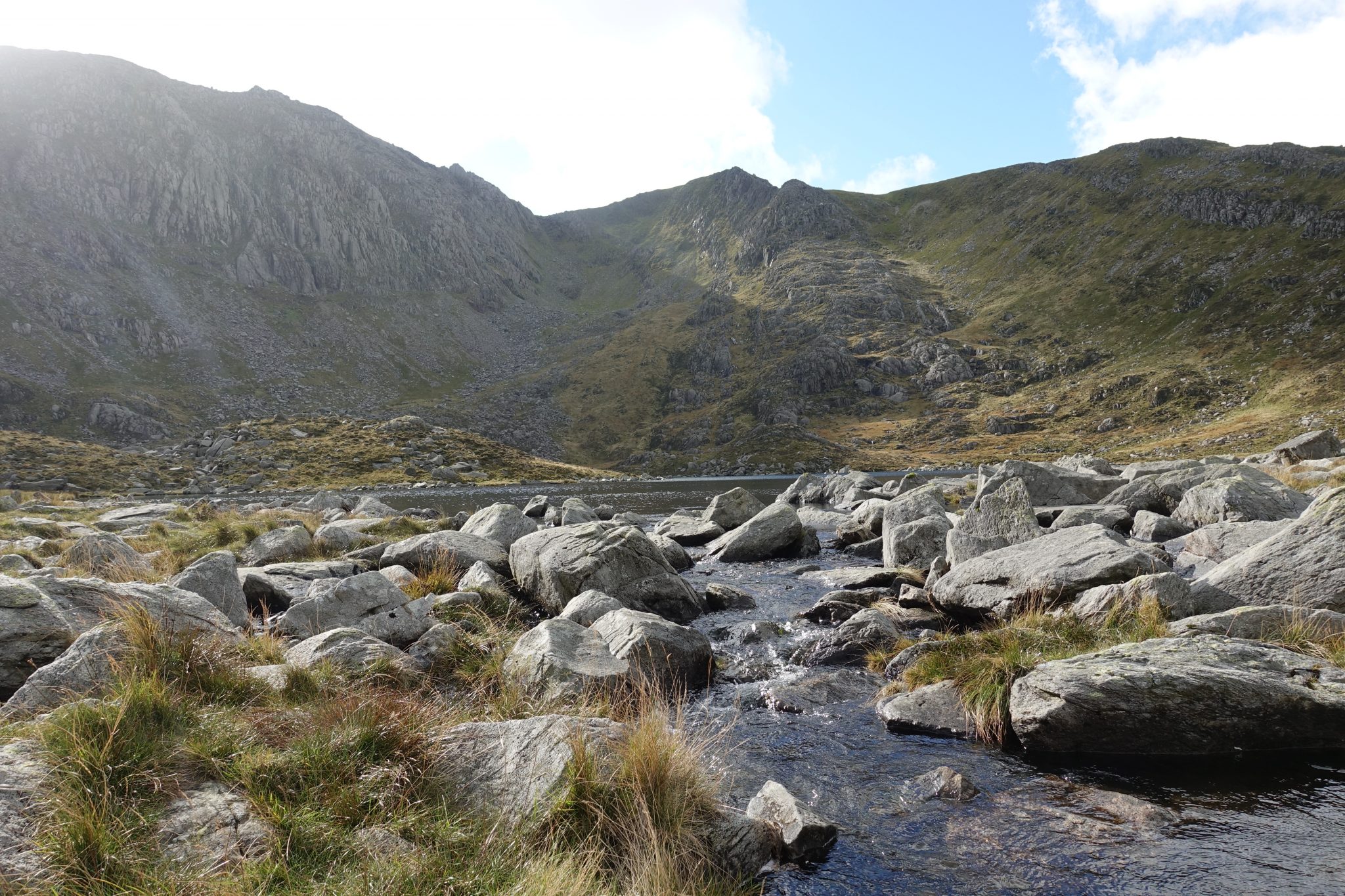 At a fence crossing, the path split in 3 directions, and looking at the guidebook and map, I quickly realised I really had no idea how to read a map.
I asked the advice of another hiker who looked 'official'. His advice – "Follow those people, they look like they are going where you want to"
NEVER EVER DO THIS!
I said I didn't want to do this and he said all paths led to the summit so it was time to chose my own adventure.
Referring back to the map after my hike, I realised I had followed a scramble path, rather than the much easier, if not slightly longer, ascent up the ridge line.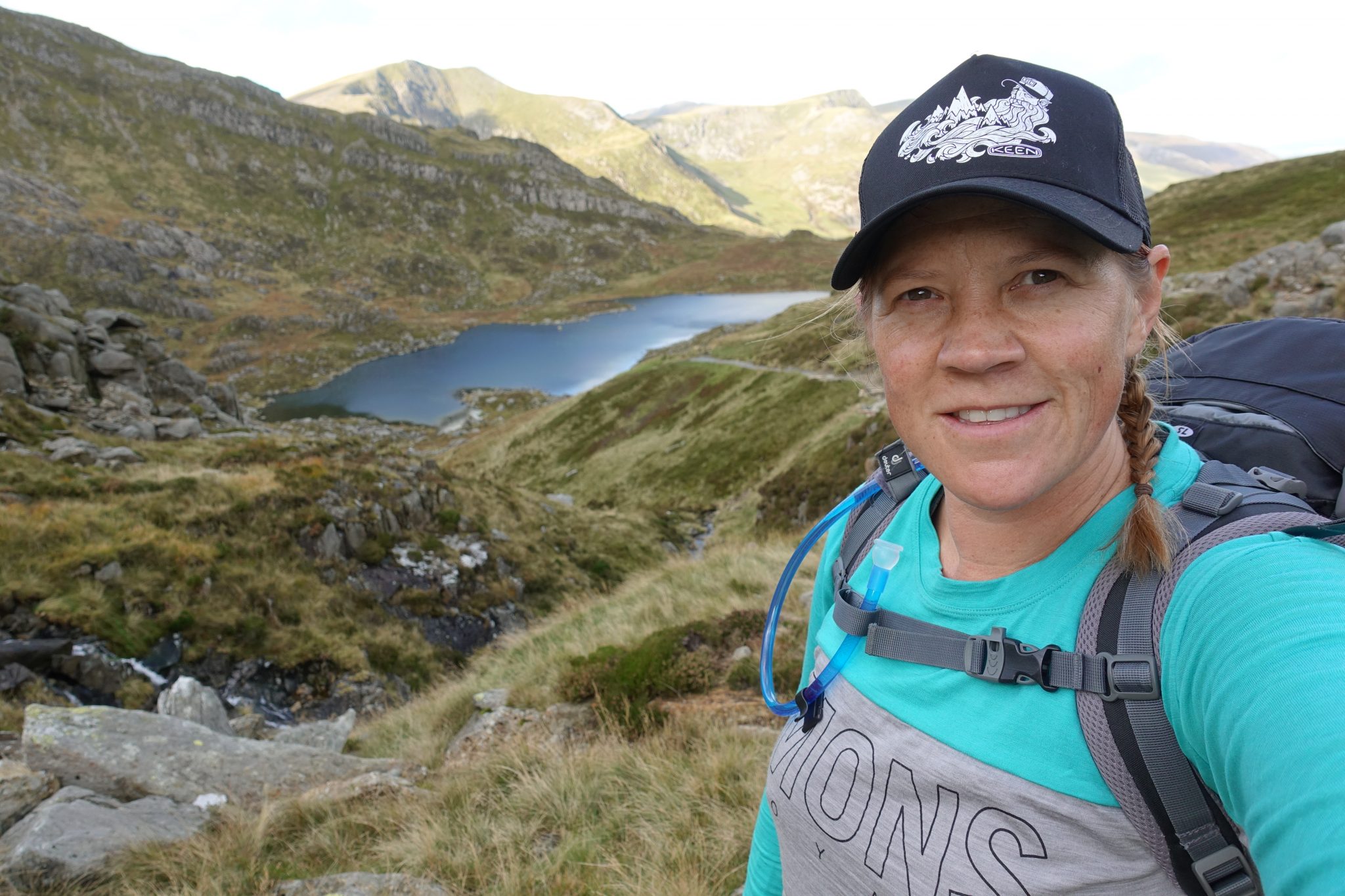 At the top of the Glyder Fawr, rain arrived suddenly, blanketing the summit in cloud with visibility down to only a few metres.
It was at this point I put on my waterproofs and started to panic.
Which way was down? Where was down? Where was I????
After 20 minutes of stumbling around in the clouds, the rain stopped and the weather started to lift.
I saw a man in a yellow coat directing people and I thought – wow, they have helpers up here on the weekends?
Turns out there was a ultra marathon about to pass my way and sure enough, I soon had 50+ people with light backpacks and running shoes to follow down a long scree face then into the Devils Kitchen before the long, slow plod, back to the start.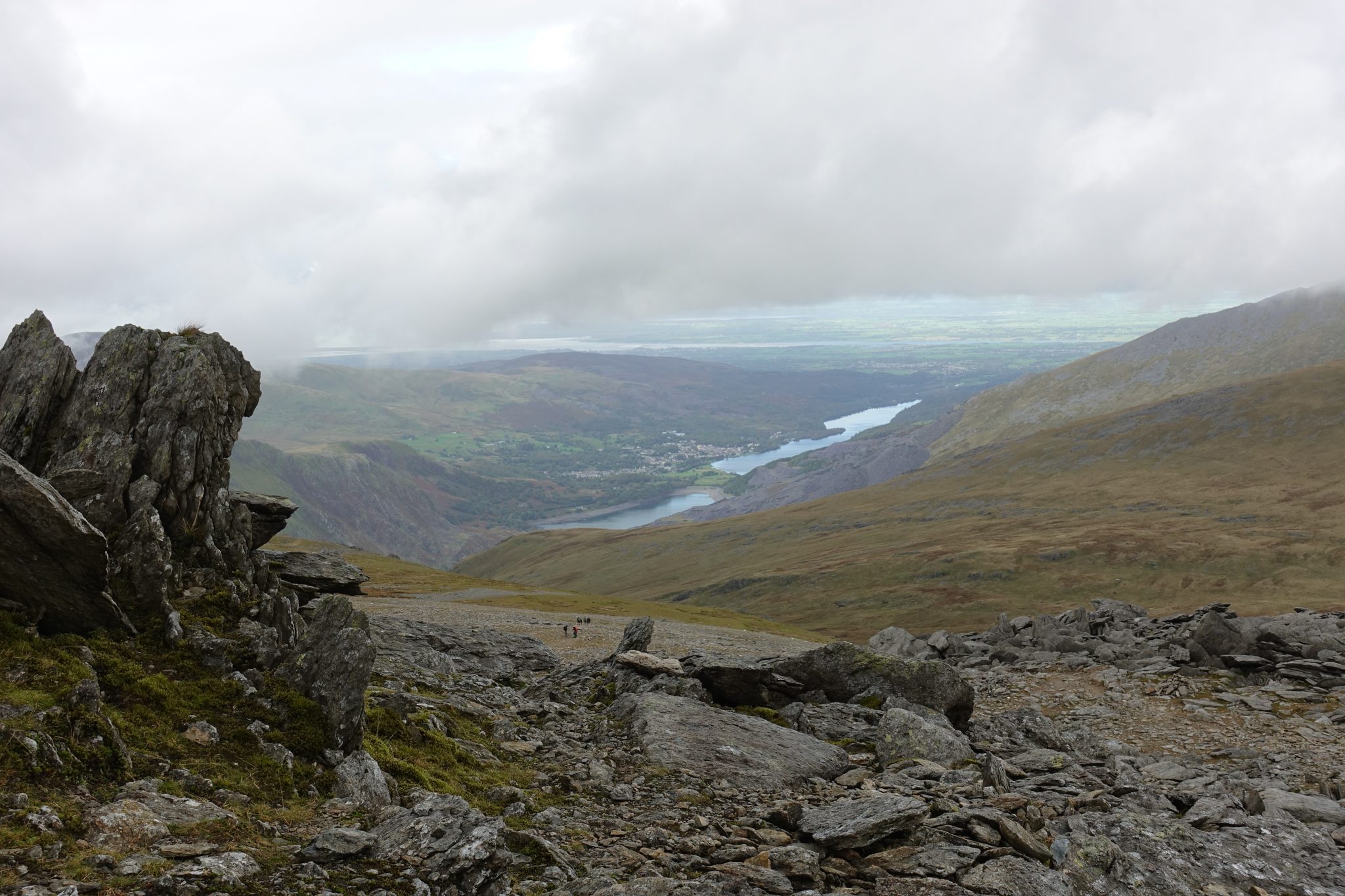 Had it not been for these little tiny pony's at the end of the hike, I definitely would have thought twice about going into the mountains alone ever again.
There is nothing that can't be solved by tiny pony's.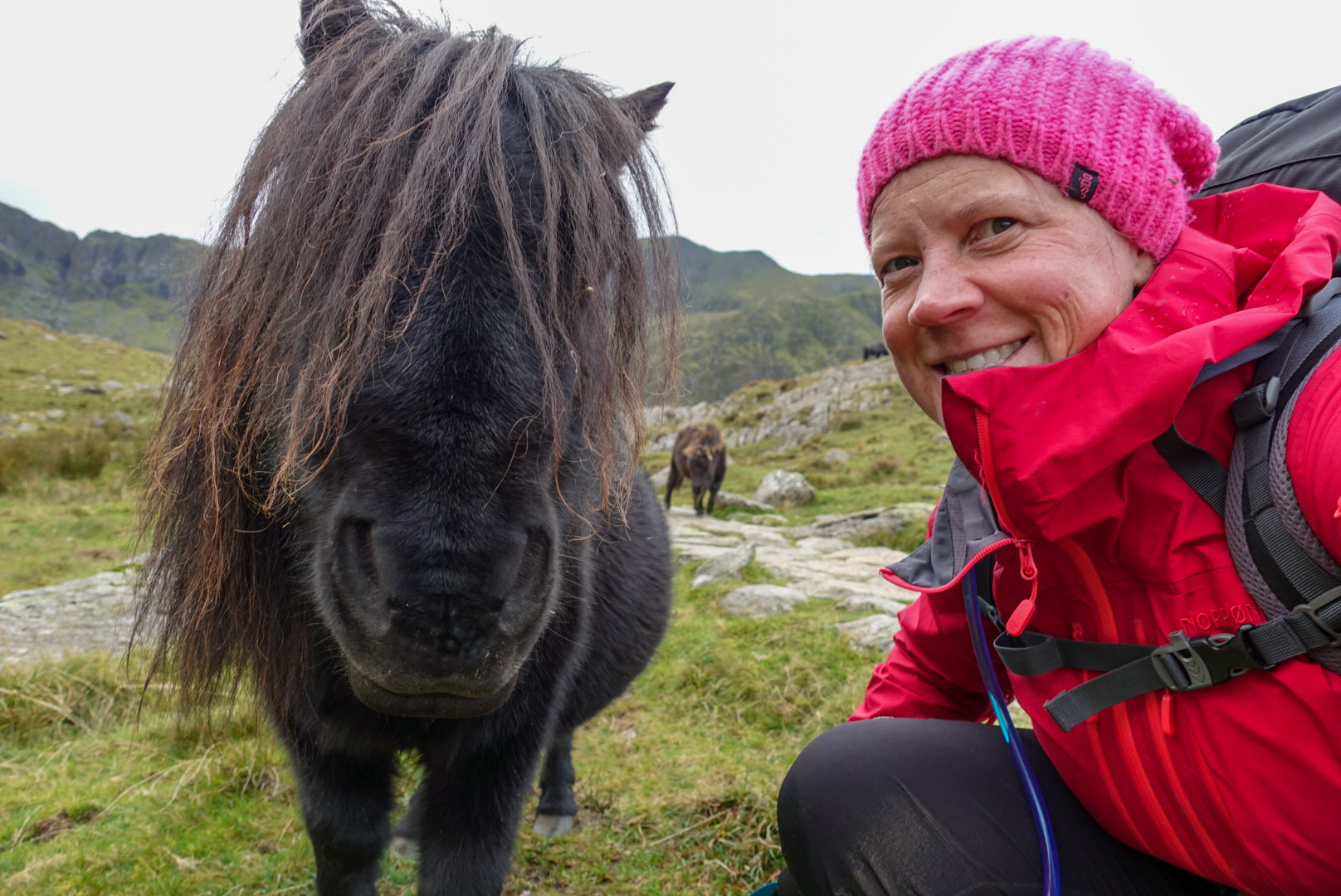 LESSONS LEARNT
Map reading can be confusing – but getting it wrong helps you to get it right next time. Keep practicing.
Bodies need fuel – hydrate and eat regularly – otherwise you might end up crying into your chocolate bar in a rain storm.
Good waterproof gloves and a hat are essential items of kit no matter what the weather. My gloves were soaked within 2 minutes and it made everything else so much harder.
Concrete slate steps are slippery when wet – walk down sideways!
Next week I'm heading out on my own to the Lakes District.
Wish me luck!
SAFETY
You can never really know what can happen in the mountains.
What may start as a sunny stroll can end up as a low visibility stumble on a mountain top. Always make sure someone knows the route you are taking and the time you expect to be back.
It's also a good idea to carry a card with your name, emergency contact details, blood type, allergies, and any medical issues you have or medicines you are taking.
Here is the card I carry in my wallet. You can download and print it here.

I'd recommending waterproofing it in some way, either laminate or I just lay clear tape over both sides and trim to fit.
Enjoyed this post? Want more? Sign up for updates direct to your inbox here.
Previous posts: