Episode 3 in a Beginners Guide to hiking mountains and my first glimpse of the Lakes District.
Listening to experienced people is always a good idea…..unless its for advice on where to go hiking and camping alone for your very first time.
Taking advice from a very wise friend, I blindly followed my satnav into the Lakes District along its narrow and windy country roads.
As I approached the end of my journey just after sunset, the realisation hit me. I've been here before……Wasdale Head…..Scaffel Pike.
Fear started to rise. I don't belong HERE.
After driving around the one street town for 20 minutes trying to decide what to do, I settled on the National Trust carpark for my first night camping alone.
Apart from a few 2am visitors, no doubt seeking peak 2 of the 3-peaks challenge, my first night alone was peaceful and incident free.
I woke up feeling refreshed and ready to tackle the world! Or at least Ilgli Head.
A quick lakeside yoga session followed by breakfast and novice route planning and I felt confident heading out on my first solo hike.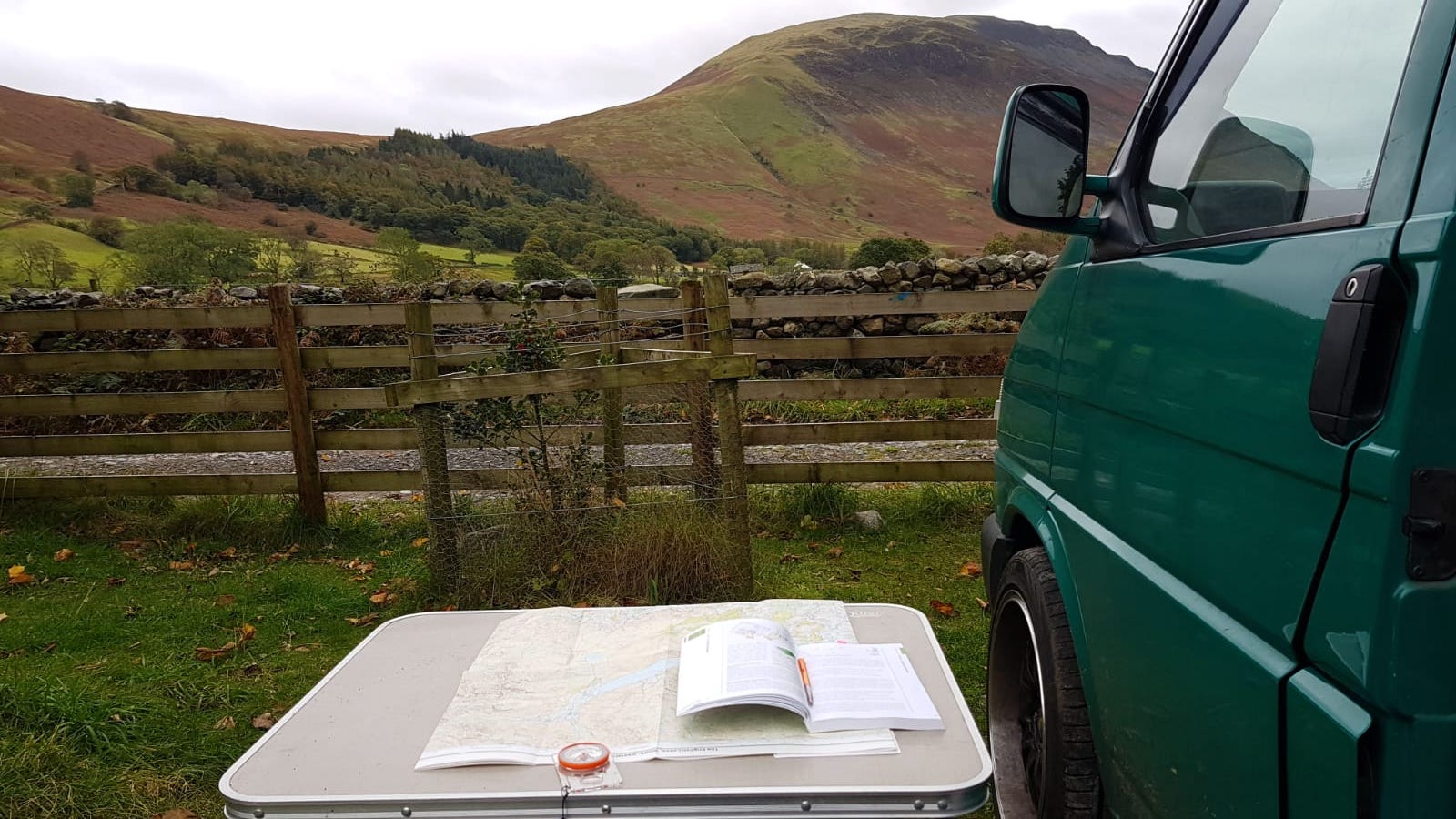 And my first introduction to peat bogs and scree fields!
HIKE 4 : Ilgli Head, Wasdale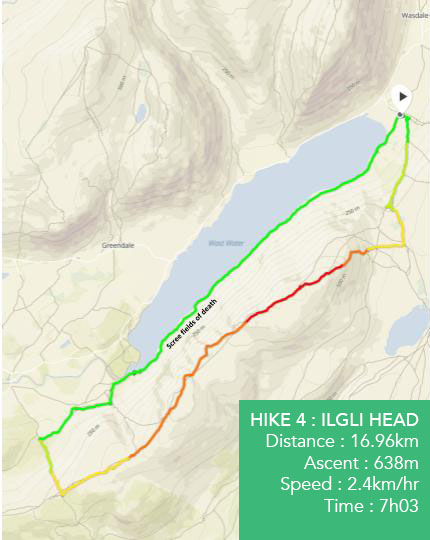 Departing from the carpark and avoiding the signs for Scaffel Pike, I headed in the opposite direction towards my target, Ilgli Head.
I chose Ilgli Head as my first solo hike in the Lakes District as the ascent met my target of 600m, it had a nice walk along a ridge-line and finished with a lovely stroll along the banks of the river.
Or so I thought.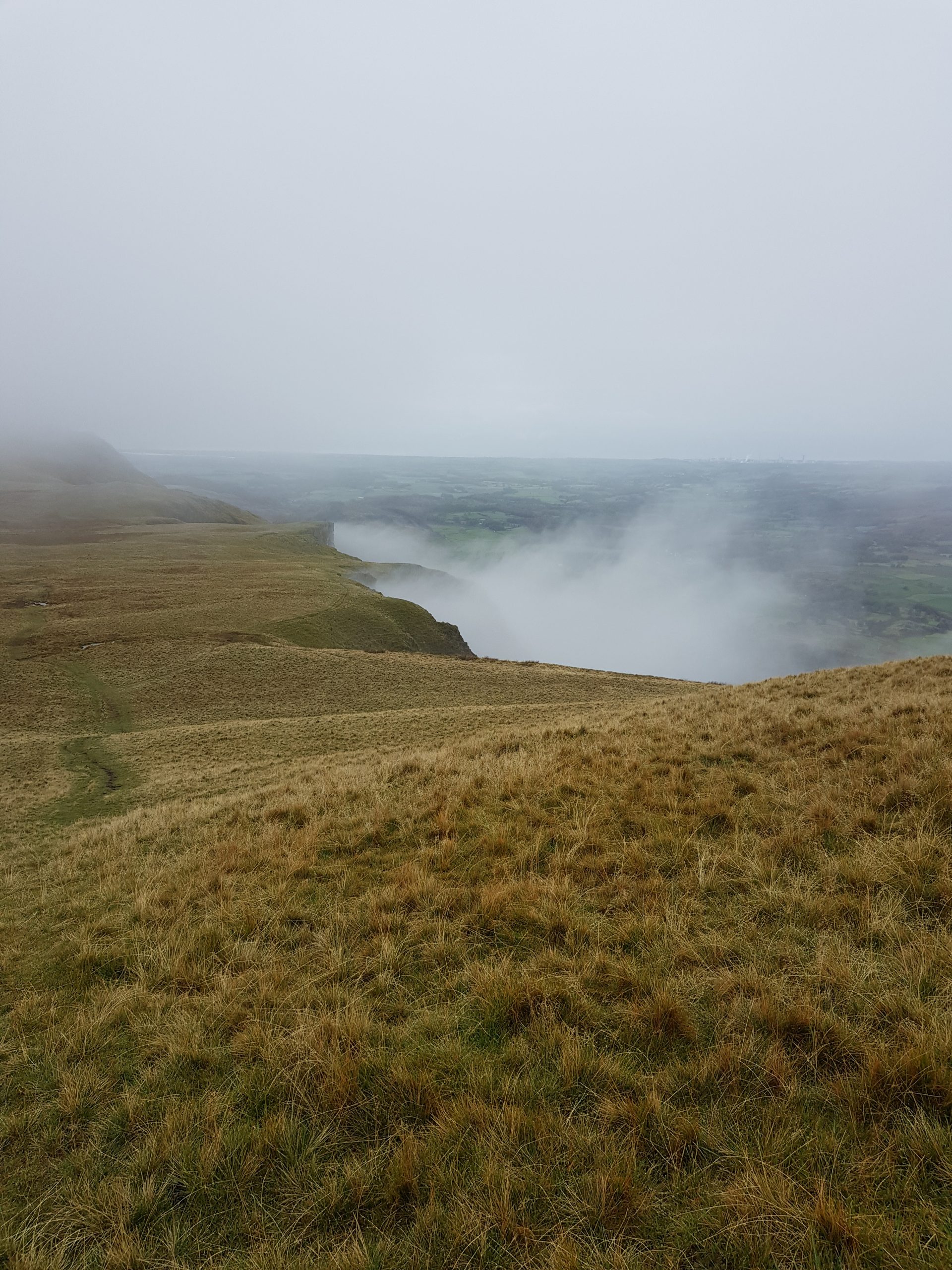 Bog and scree
To date, most of my hiking experience has been on the well marked, dusty trails of Chamonix. Even after the rain, there might be a few puddles to avoid but things dry out pretty quick.
Hiking in the UK is very different. First, there's bogs….wet, muddy, grass filled bogs.
At first I thought they were pretty fun, especially since my shoes kept my feet warm and dry.
However, after 2hrs of solid mud trudging I was a little bit over mud sliding.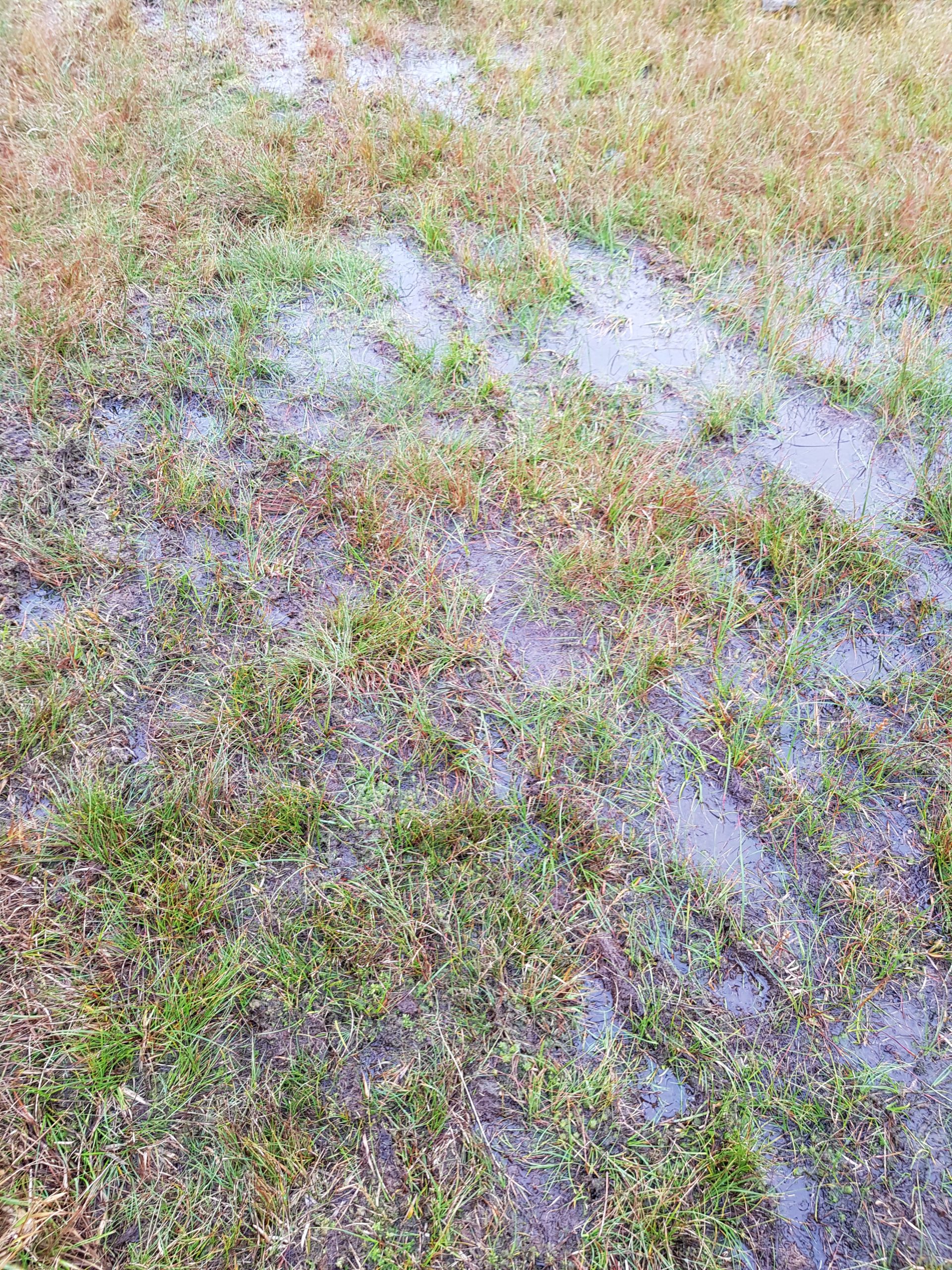 Thankfully all was forgotten on the lovely stroll home……and an introduction to scree fields.
Scree is horrible, SO many times I considered jumping into the lake and swimming to the other side. But my hard work paid off.
As a made it to the end of the scree fields of death, I was rewarded with the most amazing golden sunset at Wasdale Head.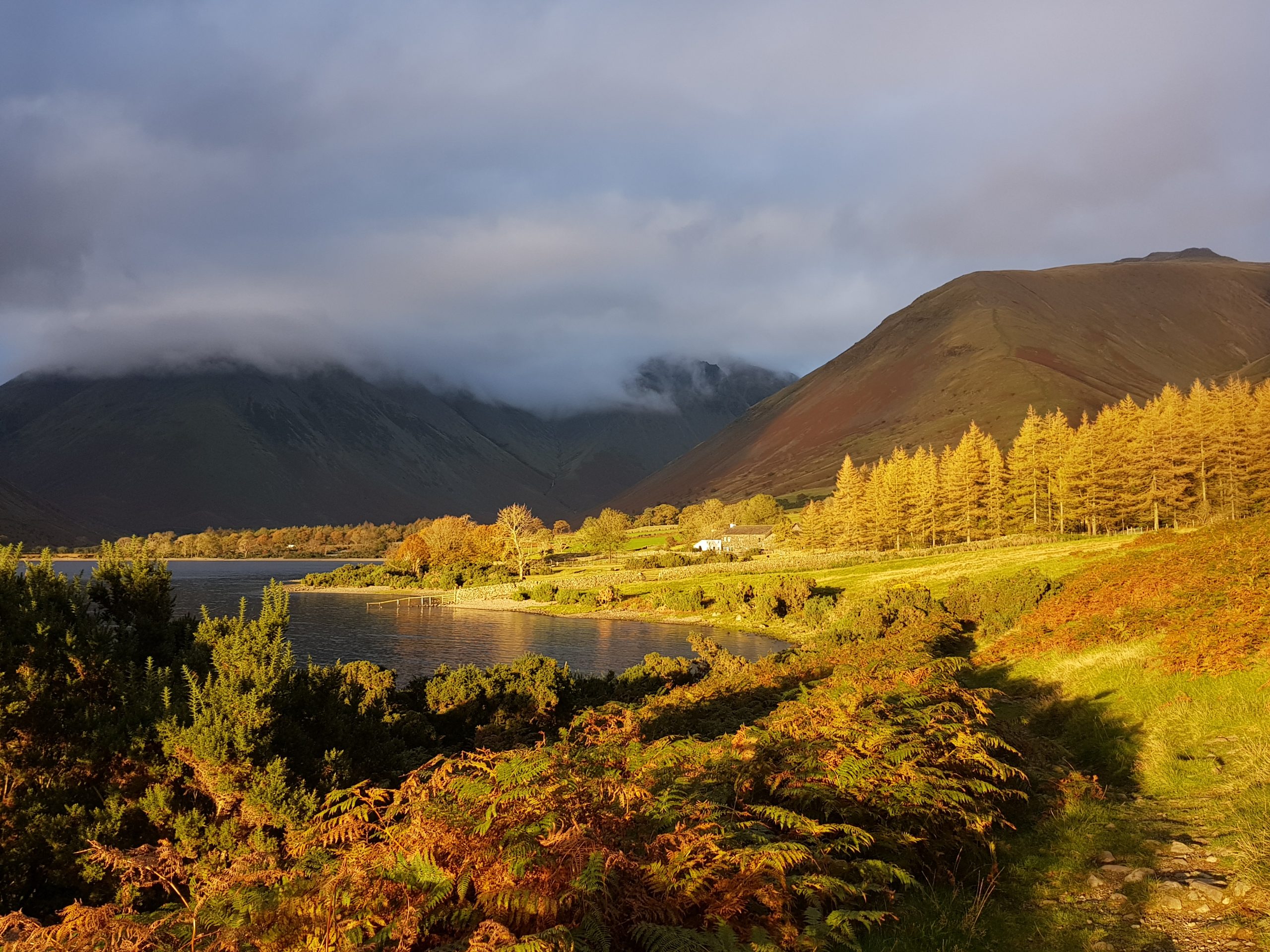 Completing my mission and overcoming bogs and scree fields I was filled with a sense of confidence.
Happy with my achievement for the day, I checked into the National Trust campsite, enjoyed a hot shower, ate pasta out of a bag and prepared for a bigger adventure tomorrow.
HIKE 5 : Great Gables
Waking up to the rain hitting the van roof, I was disappointed that I might not be able to hike. My leg and foot were feeling surprisingly good and I wanted to maintain momentum.
By the time I peaked out the window, the rain was stopping and the clouds drifting away above the mountain top.
It's Day 5: I feel alive!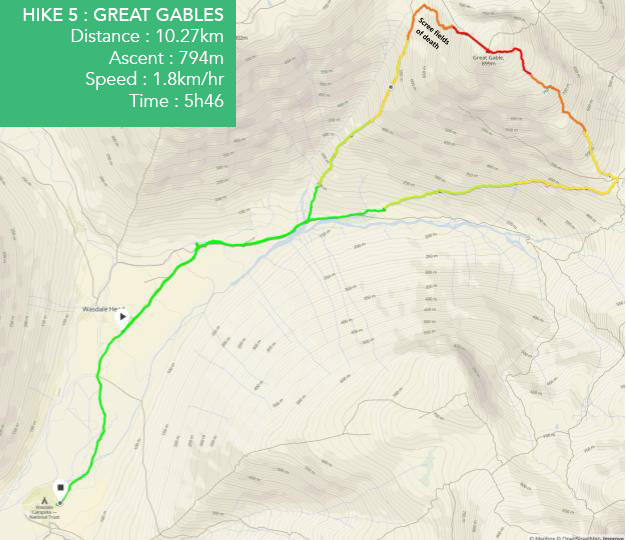 At 10kms and 794m of gradual ascent plus a lovely long warm up along the valley floor, Great Gables felt like a great choice.
I headed to the gift shop to buy a new map and get a little advice from the shop assistant – "whatever you do, do not come down the scree field".
Turns out my map reading still needs work…….
I really should have turned back, or trusted my original instincts, or had a clue on how to align a map and compass.
Instead, I got confused about which path to take.
And flustered that I was running out of time.
So I made a snap decision to go the quickest way.
BIG MISTAKE!
Lucky for me it worked out this time, but not taking the correct route and ending up on fields of loose scree is not the best idea when you are hiking solo with no phone signal or proper idea how to read a map.
I got away with it this time, but I really could have really hurt myself.
Lessons Learned
Plan your route and stick to the plan!
If you go the wrong way, go back or make sure you understand the path you are taking.
Don't follow others, EVER.
Scree is dangerous – take care always.
Bog is gross.
So now I'm heading to Keswick to regroup and recover.
See you next week!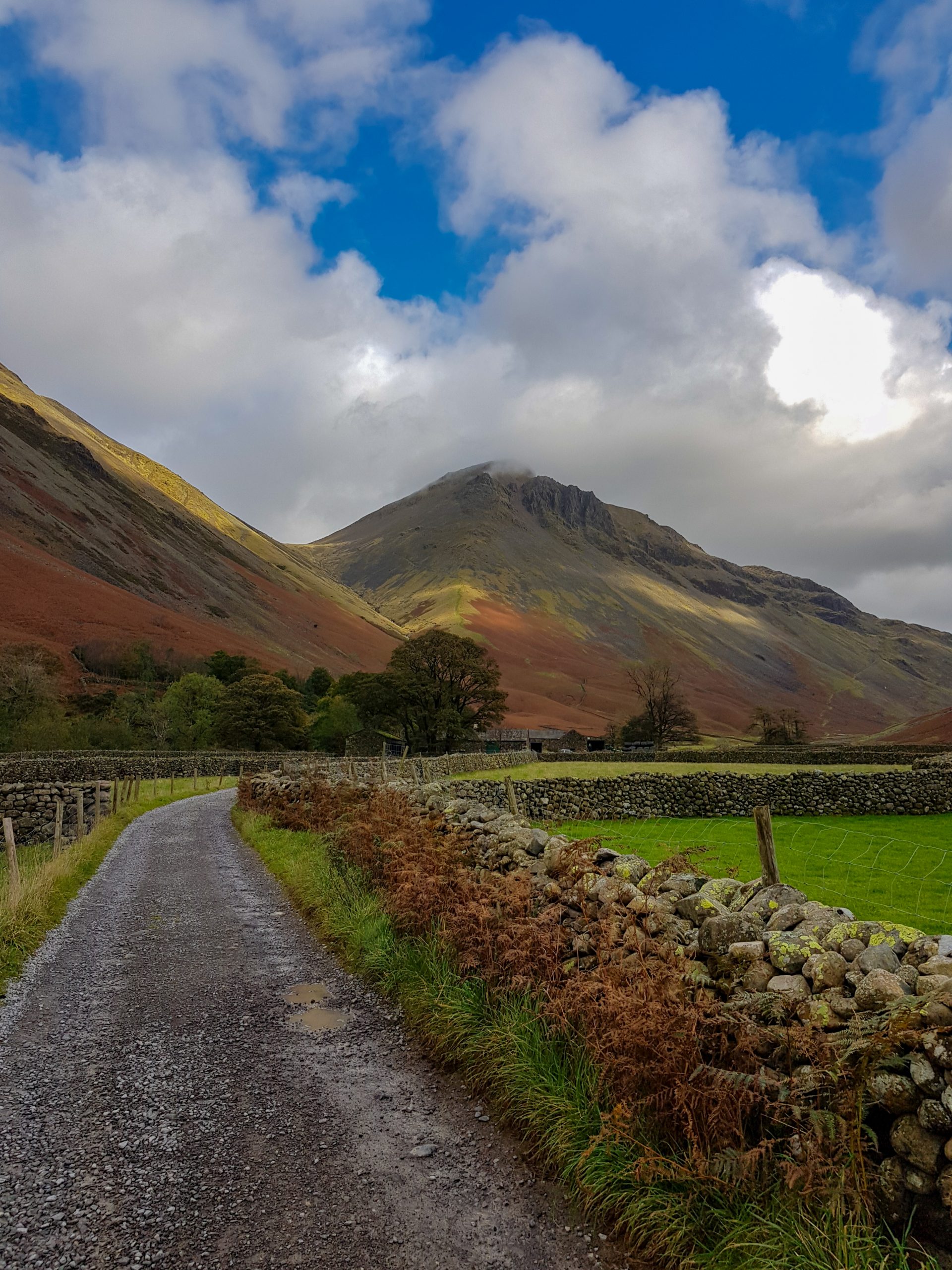 Previous Posts: