Earlier this year, my husband and I went to Japan for a 2-week holiday.
It was supposed to be a ski holiday, followed by a city break. But as is the season in Europe this year, there was very little snow.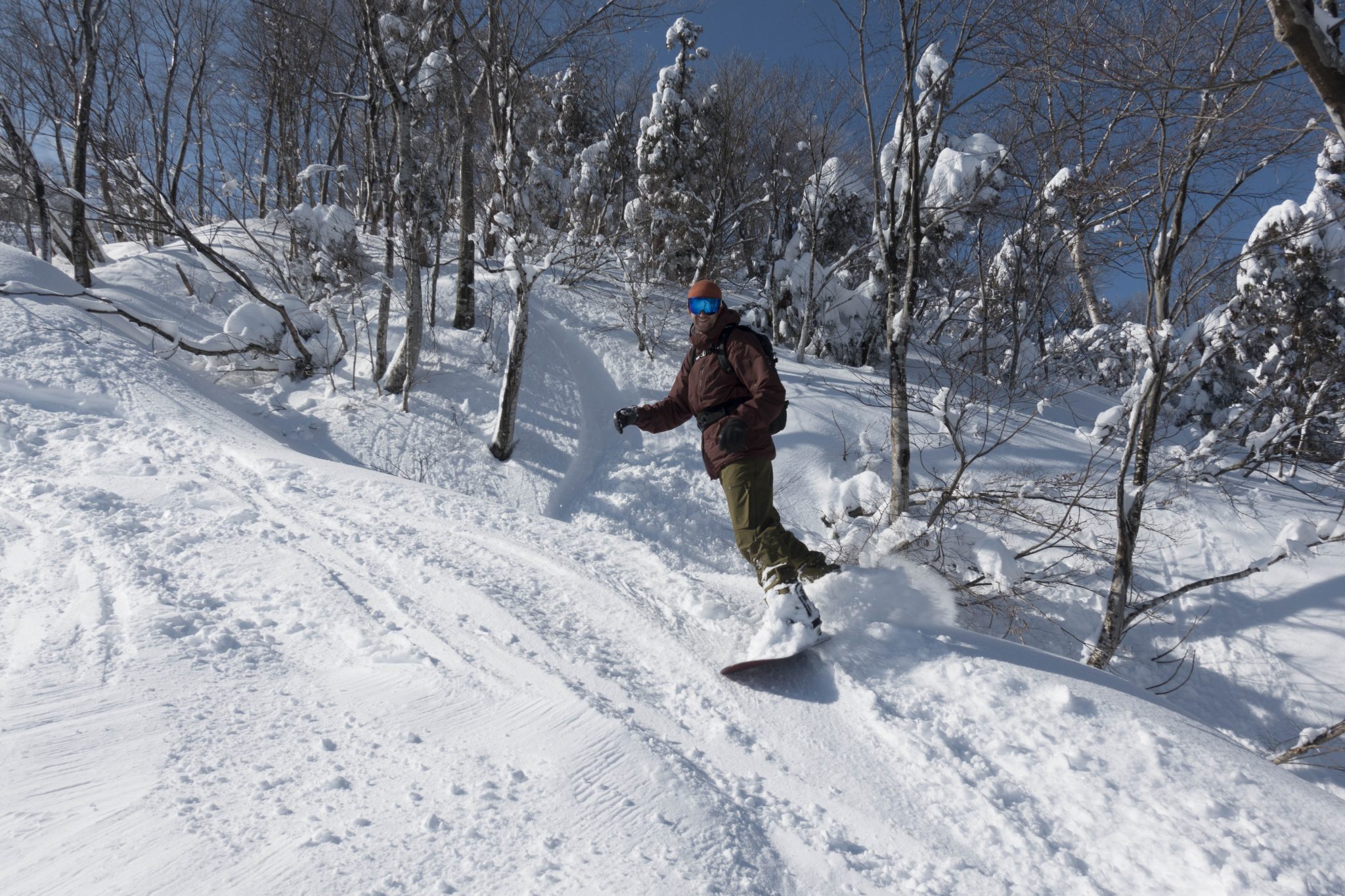 This didn't stop us from experiencing the best Japan has to offer.
Amazing food, excellent wildlife, interactive experiences and most of all – the kindest, most respectful humans I've ever met.
Everyone in Japan was polite.
From the accommodation staff who went out of their way to make our stay enjoyable to the road workers who apologised and wished us a happy day when they were simply doing their jobs.
Throughout our entire trip, I never once met an angry or rude Japanese person and returning to France was a total shock.
I longed for the lack of pushing in any queue, the acknowledging nod and the 100% total care and attention put into every action.
From making a cup of tea to preparing a plate of noodles. The precision and care Japanese people put into every action reminded me that we rush too much.
I rush too much.
Always trying to do lots of things at once and wearing multi-tasking like a badge of honour.
The truth is, its not good for our body or mind to constantly jump from one thing to another.
Japan taught me a lot about patience, care, respect, and consideration.
Sustainable Travel
While many argue that there is no such thing as sustainable travel.
What with the CO2e produced by the transportation industry up 24% in the last 10 years, and the irreversible damage caused by hundreds of hands and feet at iconic cultural sites.
It's easy to assume that travel is completely unsustainable. But it doesn't have to be.
While there is an environmental negative with overseas travel, there is an economic positive for the country involved.
And if we can be more sustainable and environmentally-minded when we travel we can balance the two out.
It's simple science.
The benefits of tourism
Travel and tourism provide economic growth.
Creating in-country revenue across multiple sectors including transportation, accommodation, food & beverage, entertainment, and financial services.
And leading to more employment opportunities and developmental growth.
The biggest issue with global travel and tourism is the sheer volume and the lack of care and consideration shown by visitors to other countries.
As a sustainable traveller, we should leave no trace – not physical nor emotional.
A visit to a new country should provide economic growth and protection of the environment.
Here's how:
Travel responsibly
If you can travel by bike, bus or train, these are undoubtedly the most environmentally friendly options.
As I mentioned in this post on sustainable living, the transportation sector is the fastest-growing contributor to CO2 emissions worldwide and we must take our contribution to this seriously.
Before Covid-19 Toby and I had already agreed that we would reduce our personal international trips to once every 2 years.
With most emissions being produced during take-off and landing, it's important to choose the shortest route possible (direct if possible) and also an airline with a good sustainability policy.
We flew with Turkish Airlines whose sustainability policy features enhanced fleet efficiency, waste reduction, research into alternatives forms of fuel and carbon offsetting.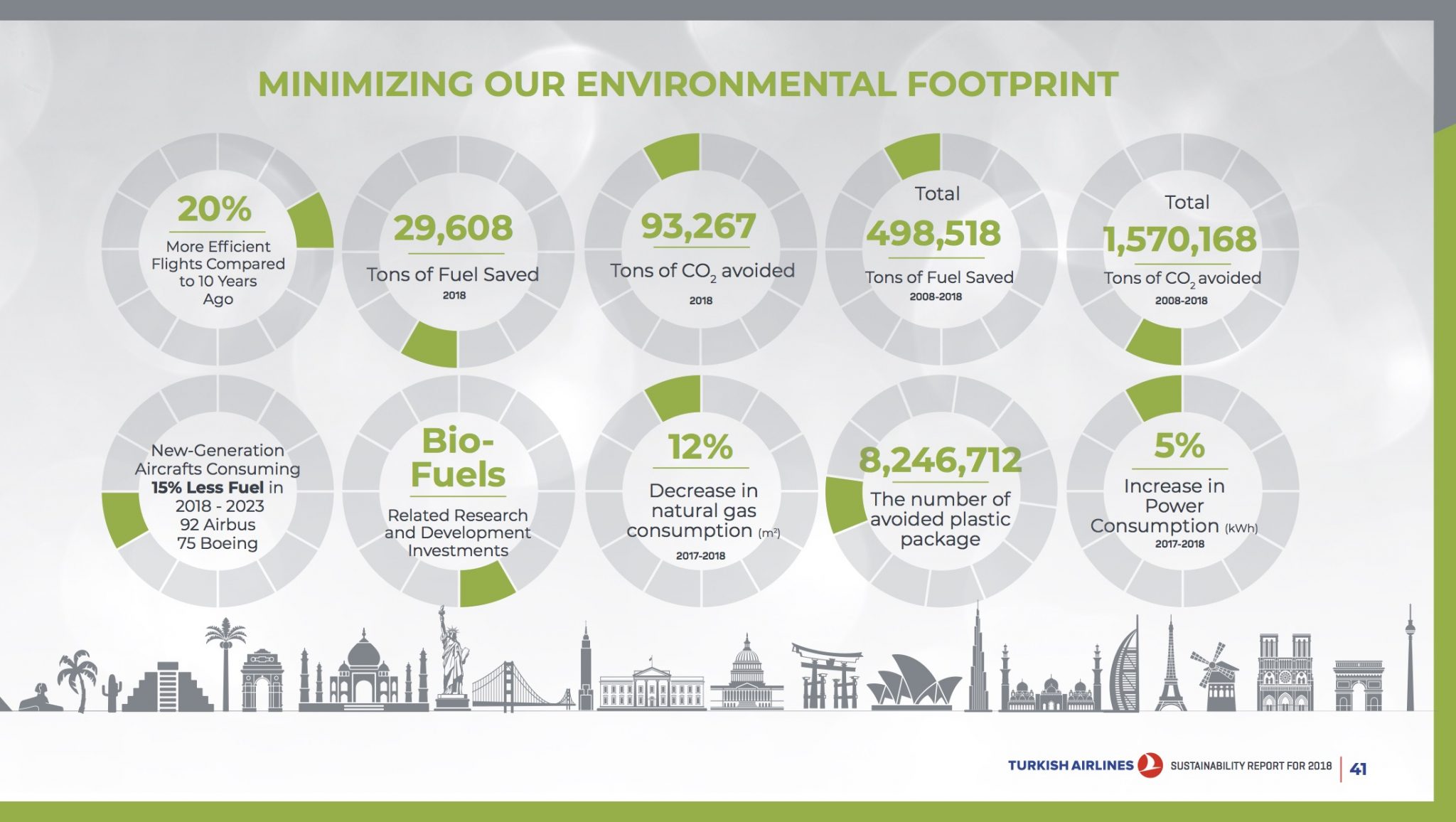 In addition, we purchased carbon offsets for the 2.71 tonnes of CO2 our return flight from Geneva to Tokyo produced with one of Gold Standard's projects
Check the carbon footprint of your last flight here.
Say no to the onboard comfort packs.
I know its really tempting to say yes to that cute little toilet bag, but unless you really need it and you can guarantee life after flight, do us all a favour and say no thanks.
Choose local food & accommodation
In Hakuba, we opted to stay in a local house – rather than a chain hotel.
The reason is to ensure your tourist dollar is going back into the pocket that needs it most.
The same goes when choosing where to eat.
Choosing the little, locally-owned place is likely to give you a much better experience and support the little guys.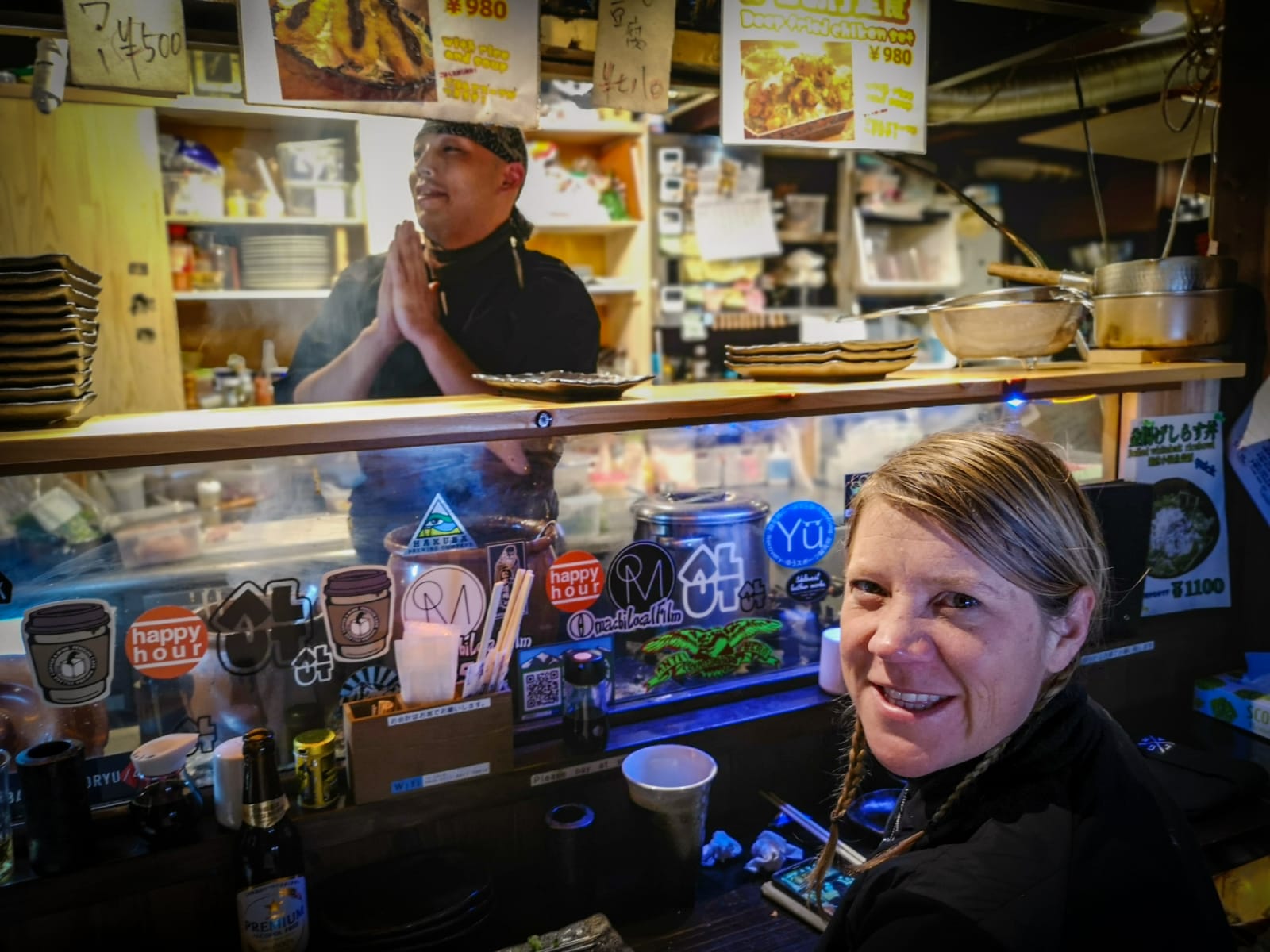 You will undoubtedly get some of the best food you have ever eaten as well.
Our favourites in Hakuba both for price and quality were:
And in Nagano: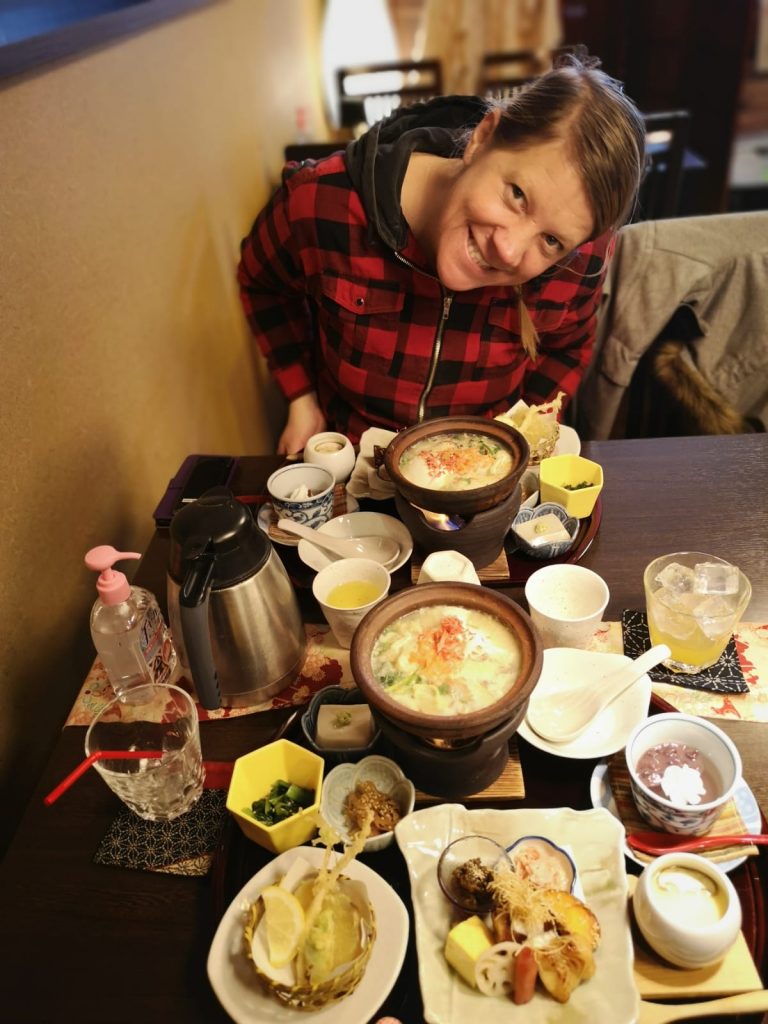 Get off the beaten track in Tokyo
While Harajuku Street, Shinjuku and Don Quixote were an experience, visiting local areas and finding little boutique shops and street markets were much more rewarding.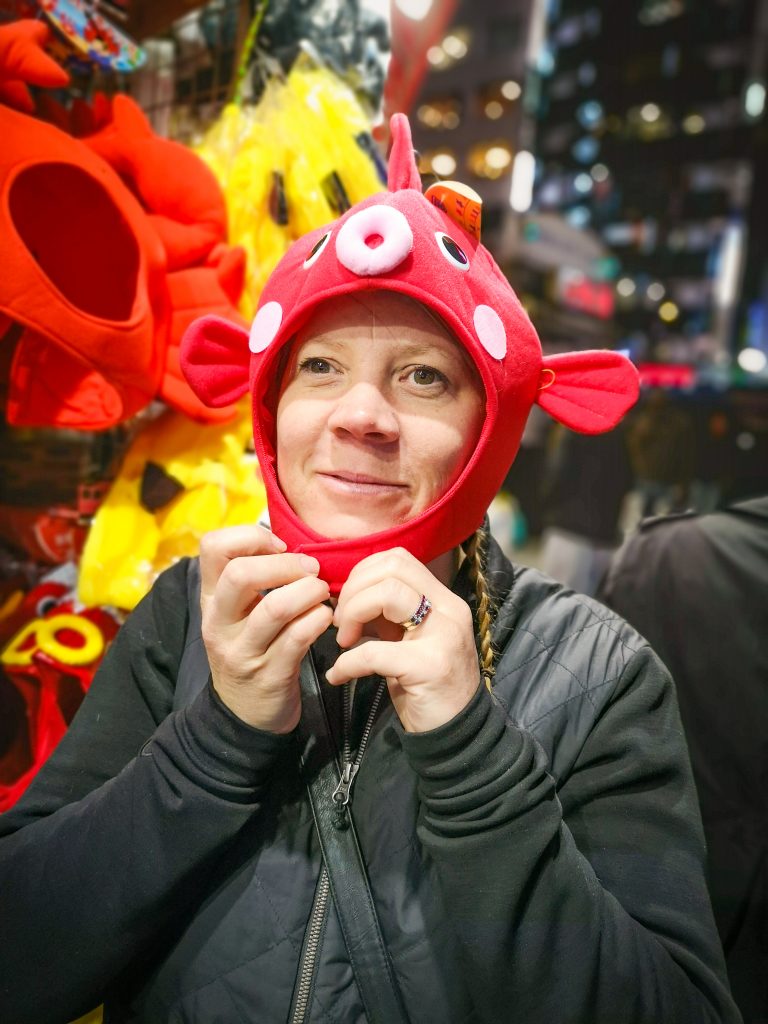 Our favourites were:
Dikan Yama for the best breakfast – try Blu Jam for an awesome selection of vegan & vegetarian dishes and the best coffee.
Amayokcho market – awesome for more original souvenirs and make sure you try the octopus balls.
Rappongi for local izakaya's and other unique local Japanese restaurants.
Yoyogi and Shinjuku Parks for a touch of tranquility.
Omotesando, Cat Street and Jingumae in Shibuya for boutique shops and restaurants.
Yanaka Ginza Street for a real local market with cheap 2nd hand kimonos (top secret this one!).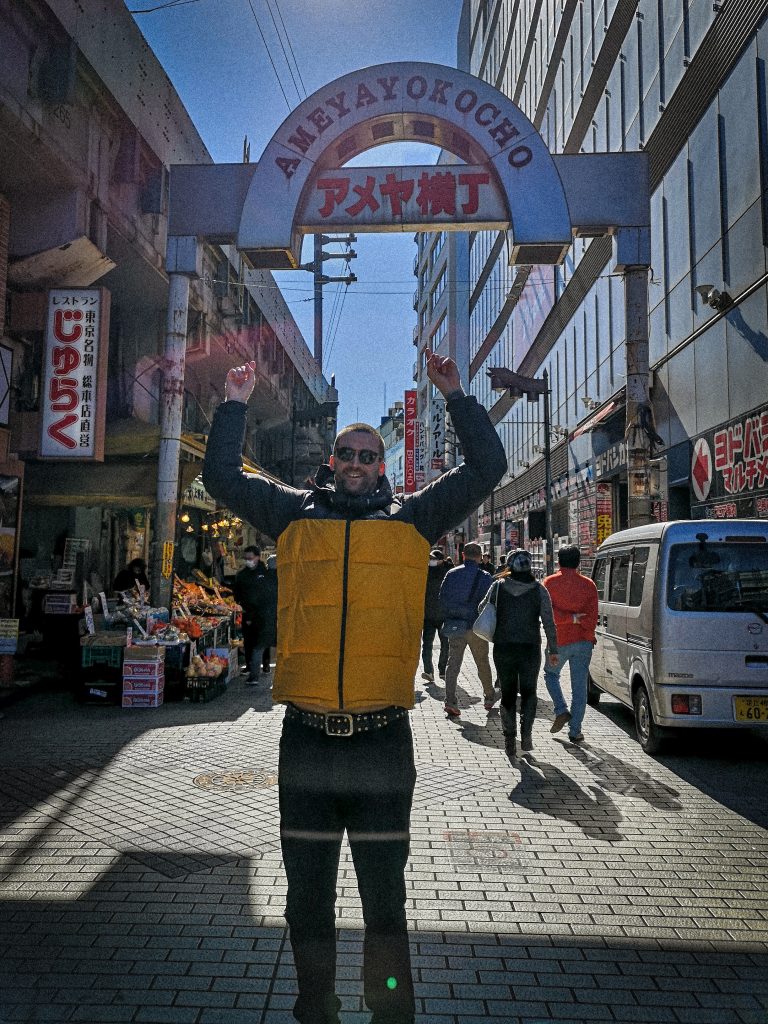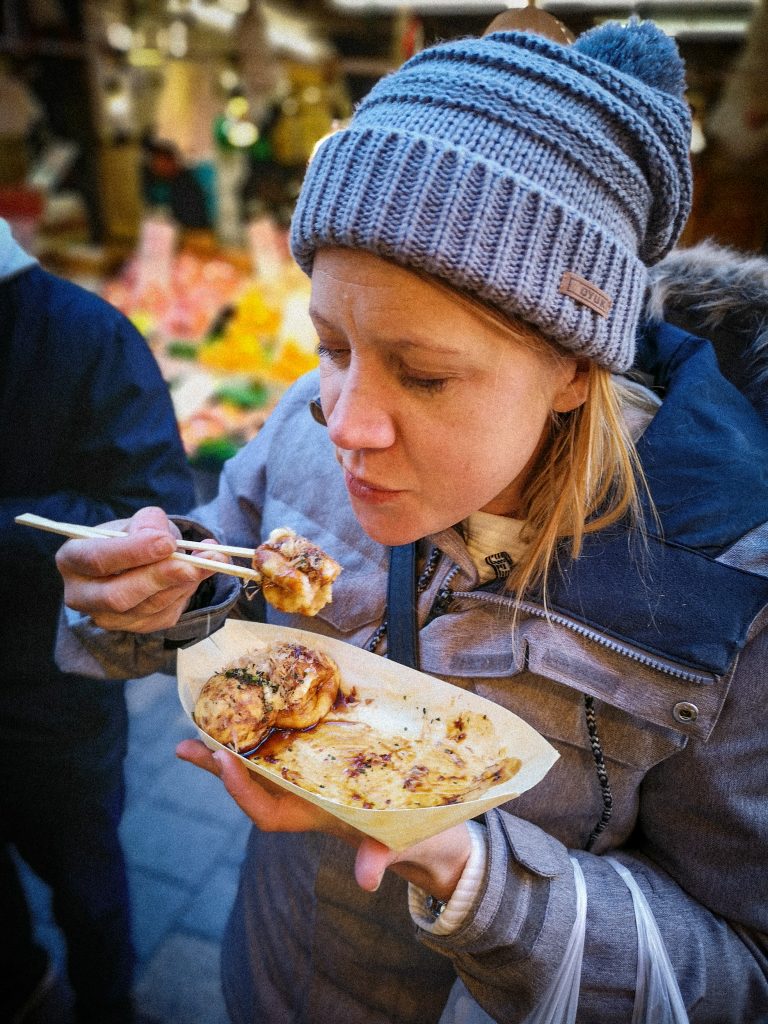 Support wildlife experiences that respect nature
In Tokyo there is every kind of animal cafe you can imagine – mini pigs, owls, kittens, hedgehogs.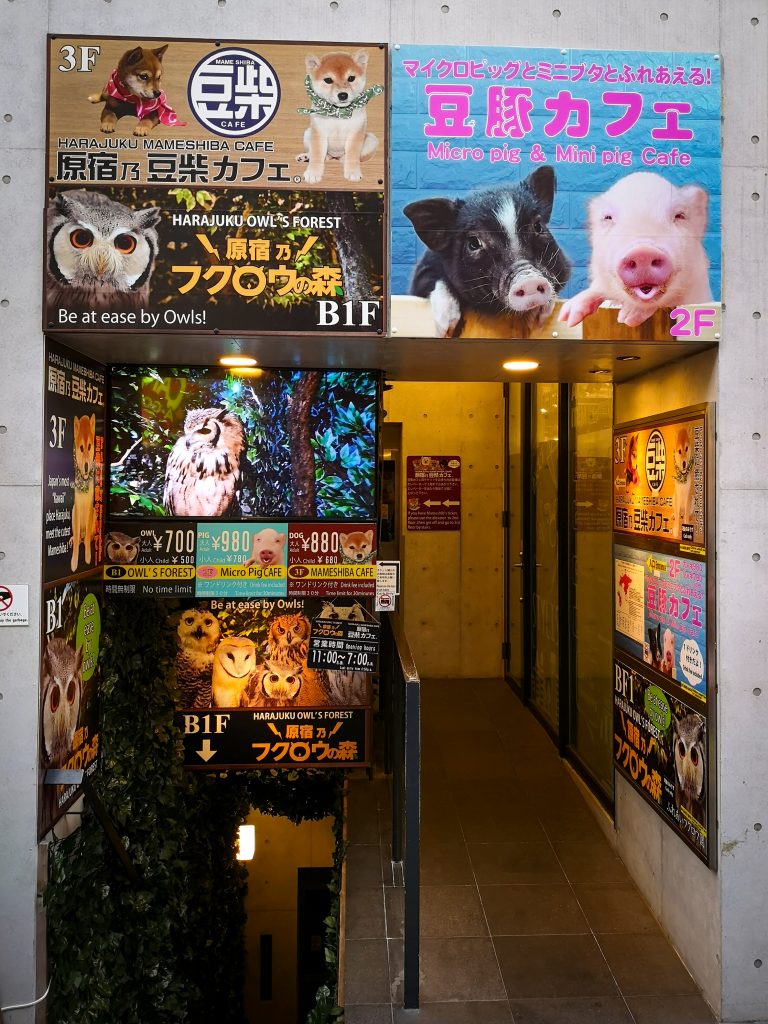 And while it's a cute experience its not really good for the animal's welfare.
This goes for any experience that uses animals for human entertainment such as elephant rides, photos with wild tigers and most zoos.
The only way to stop the exploitation of animals in tourism is by not supporting these projects.
Instead, seek out the projects that provide positive wildlife interactions. Such as the Jigokudani Snow Monkey Park.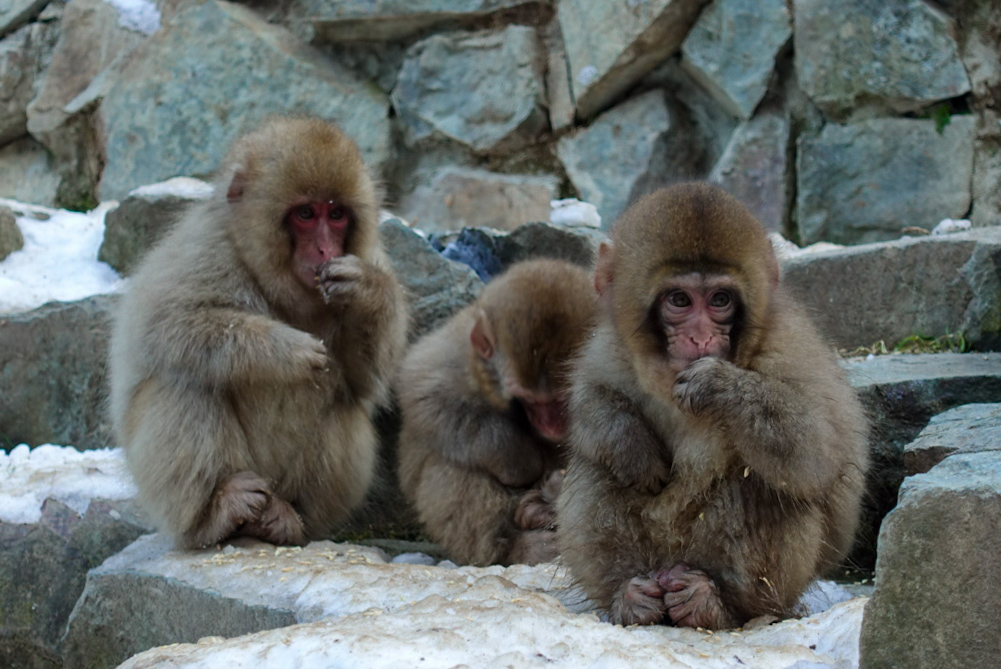 Initially, I was hesitant to go to Jugokudani Snow Monkey Park. I had read various reviews that it was overcrowded and the staff 'forced' the monkey's to stay around. This couldn't be further from the truth.
The park was created in 1950 to protect the monkey's and provide a safe space after much of their usual habitat had been converted to snowfields.
The monkeys are completely free to come and go as they please – the only enticement is the food left out by the staff which provides an essential food source in the winter and stops the monkeys raiding local apple farms.
The number of visitors is limited at one time and security staff are on hand to protect the monkeys. There is no barrier between you and the monkey's and I was really happy to see everyone being very respectful.
No one touches or holds the monkeys – except of course for the mothers carrying their babies (kawaii!),
The monkeys are free to jump, climb and swim until their hearts content then scale the cliffs nearby and disappear back into the forest.
If you are interested in visiting the Snow Monkey Park, I highly recommend reading THIS BLOG, which tells you the history and conservation value of the park.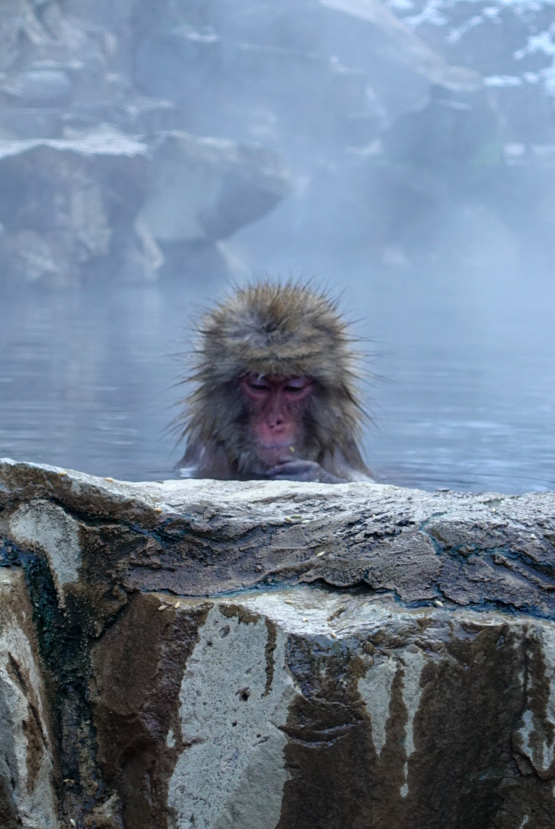 The whole experience made me smile from ear to ear for days afterwards, from the 20-minute walk through beautiful forest to the time spent observing the monkeys – I wouldn't change a thing!
Be culture-rich and shopping poor
Even though Japan has an endless supply of amazing, crazy things for you to buy, do we really need more stuff?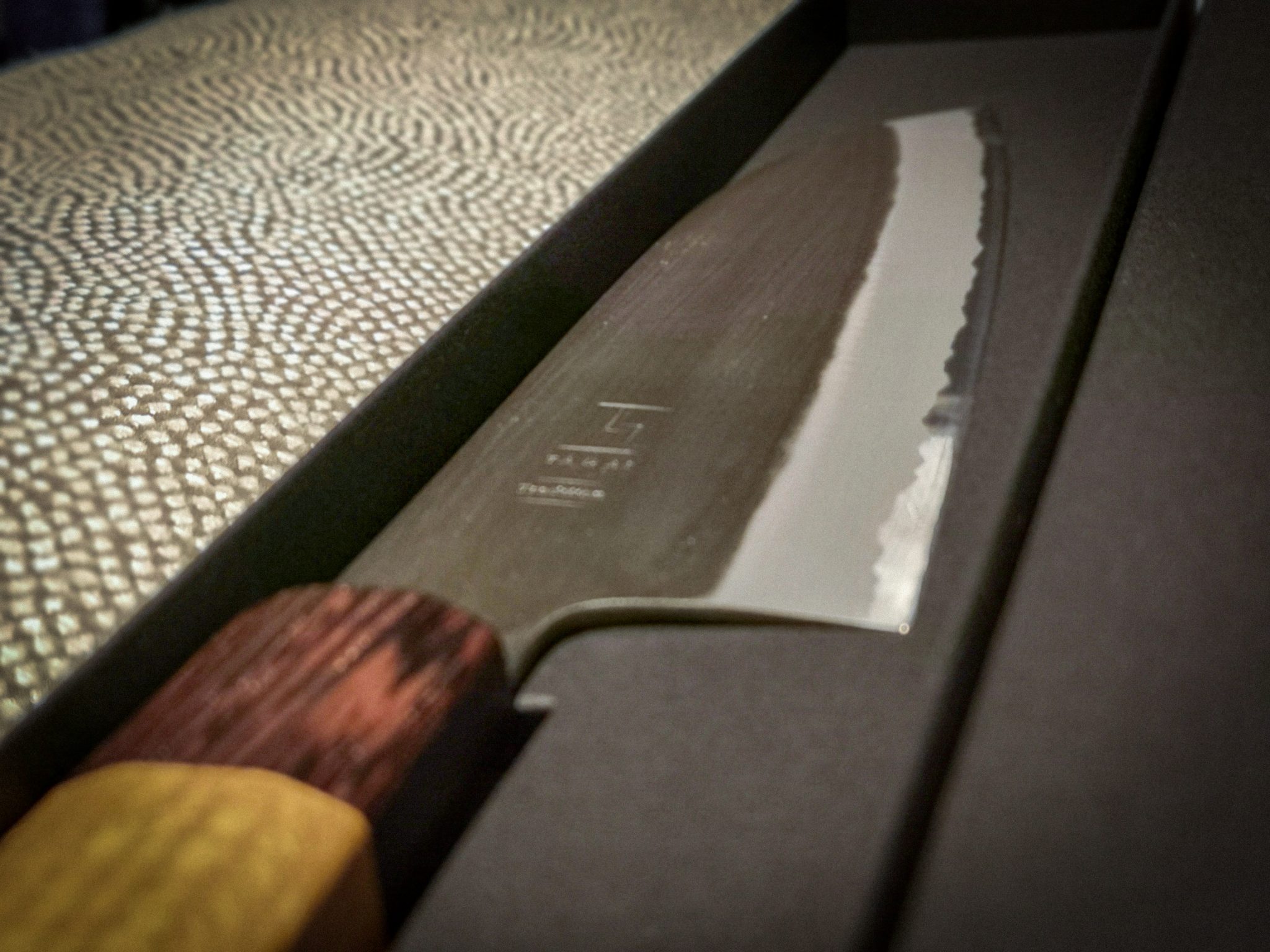 The only things we bought in Japan were high-quality items that we will use and love for a lifetime. Such as this amazing knife we got in Kitchen Street and a Hutan that I am wearing right now.
Instead, we chose to spend our money on cultural experiences.
Japanese tea ceremony
For over 20 years I have been interested in Japanese tea ceremonies and always wanted to attend one in person.
Maikoya in Tokyo didn't disappoint.
On arrival, I was guided to a room where I changed into the kimono undergarments before choosing a kimono
The kimono's were so beautiful, it was hard to choose and a lot of fun to understand how difficult it is to dress in these garments.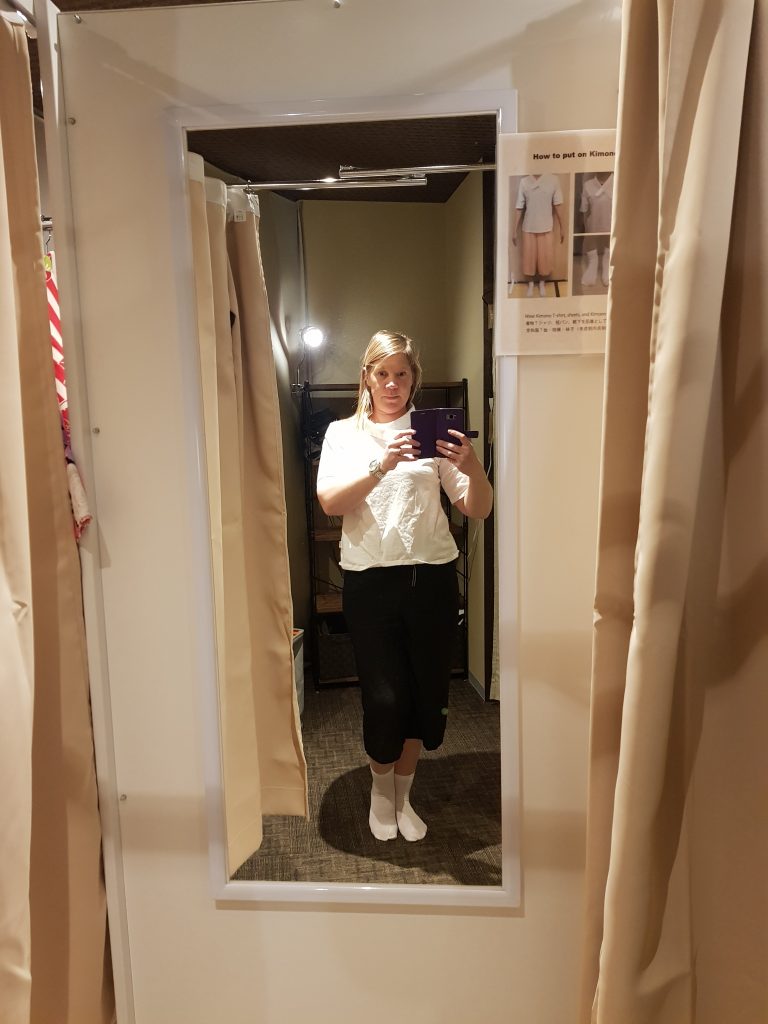 Then I was taken to a room where they explained the history behind the tea ceremony, why it's important and led us through the steps for preparing tea.
The whole ceremony is based around 和敬清寂 wa kei sei jyaku – harmony, respect, purity and tranquility – core aspects of Japanese culture.
Haruko from Maikoya was kind enough to send me the following explanation.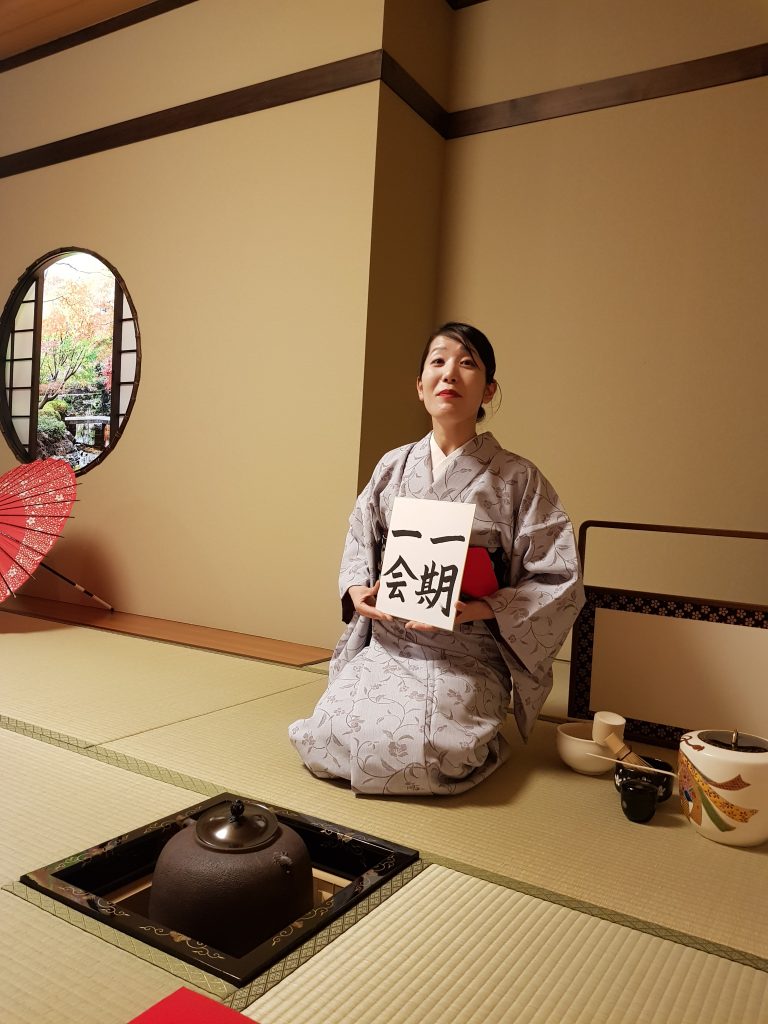 WA : Harmony. The whole tea ceremony procedure is about how a host and guest beautifully enjoy a bowl of tea in harmony.
Harmony has so much importance in the Japanese culture that the kanji character of Japanese (和) is almost the same with the kanji character of harmony (和). Harmony is the foundation of Japanese culture and Japanese people believe harmony is not only limited to humans, but it can also be between humans and objects and between humans and nature.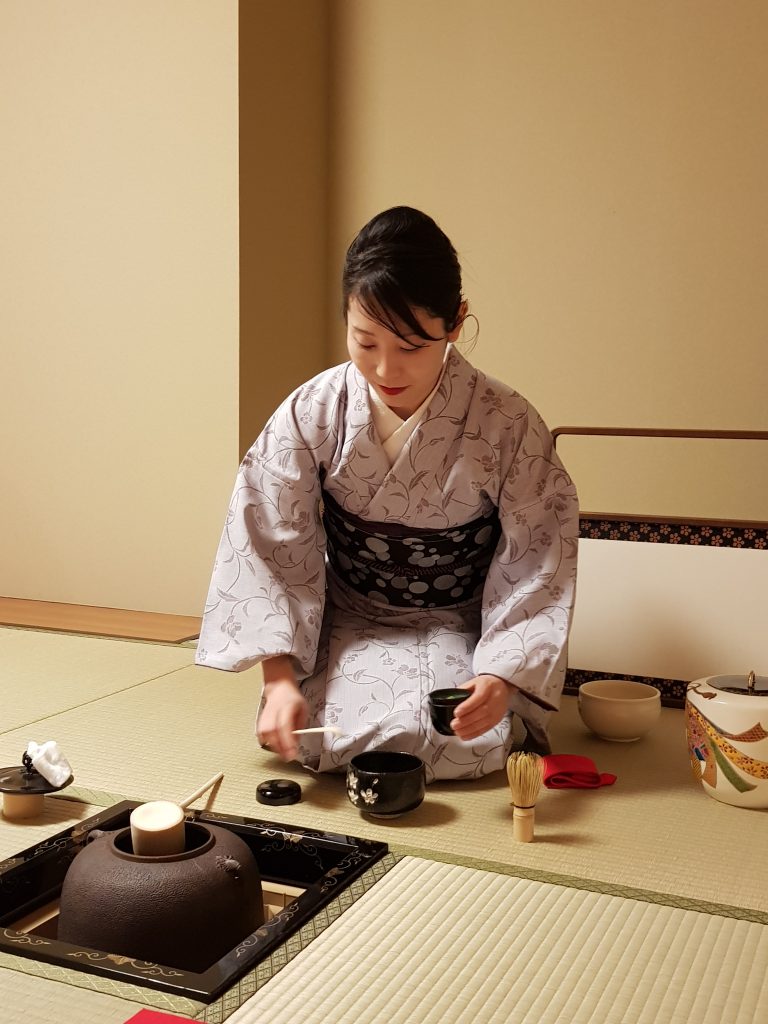 KEI: Respect. Tea ceremony may look simple but the host goes through many steps to please the guest and the guest responds with continued appreciation throughout.
Every little thing from the flower arrangement to the scroll on the wall indicates the utmost attention paid to the preparation for the ritual.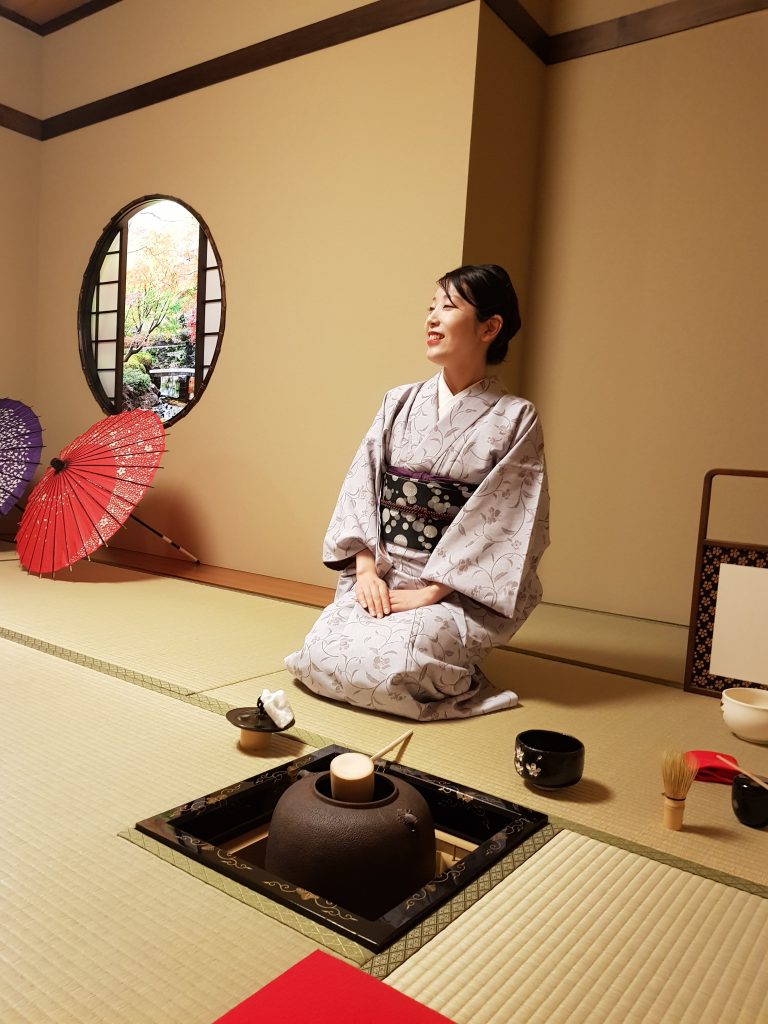 One of the many aspects of the tea ceremony that the foreign guests may not realize is the ritualistic way of showing appreciation by the guests.
For instance, the person who is sitting close to the hanging scroll must make some positive comments about the room design prepared for that day.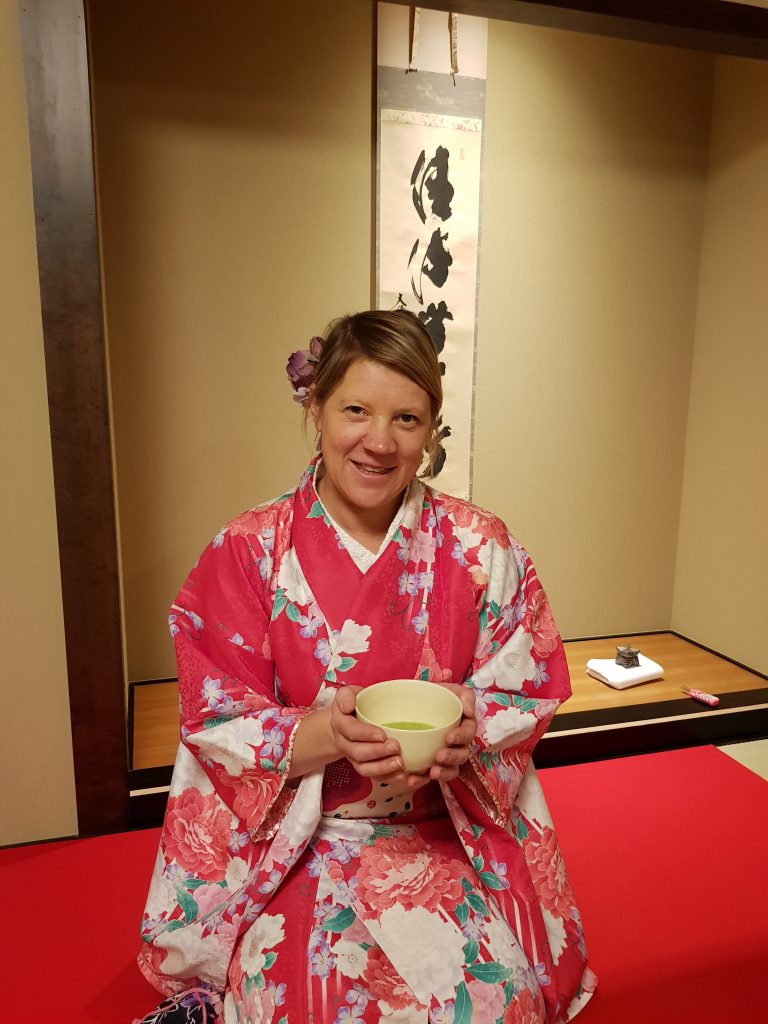 After drinking the tea, the guests should put their bowl on the floor and then pick them up and take a close look and then make some positive comments about how interesting and unique the bowls are.
This is all to show the appreciation and the underlying respect. As stated in the book cha no yu "The guest must fully realize the pains taken by the host, to give him as little trouble as possible. The ideal relation between them is a mutual understanding and appreciation that needs no words to express.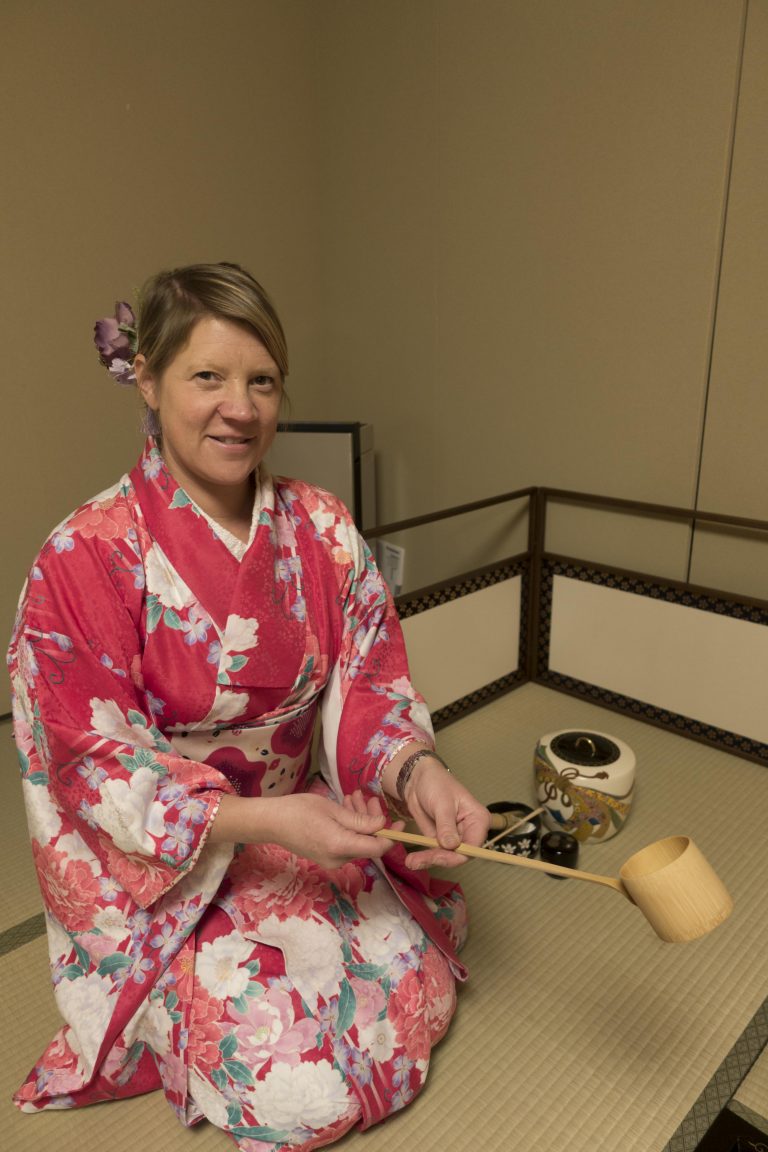 SEI: Purity. Even though the utensils used in tea ceremonies are usually prepared and cleaned in advance, one goes through the tedious process of cleaning utensils in front of the guests over and over again.
The guests wash their hands before entering the tea room purifying themselves from the worldly things.
The symbolic cleansing implies the purifying one's heart and mind while cleaning the tea utensils.
Everything must imply purity from the sound of hot water pouring into the bowl to the smell of freshly powdered matcha. The tea ceremony is heavily influenced by Zen Buddhism but the ritualistic purity aspect has no doubt been influenced by Shintoism as well.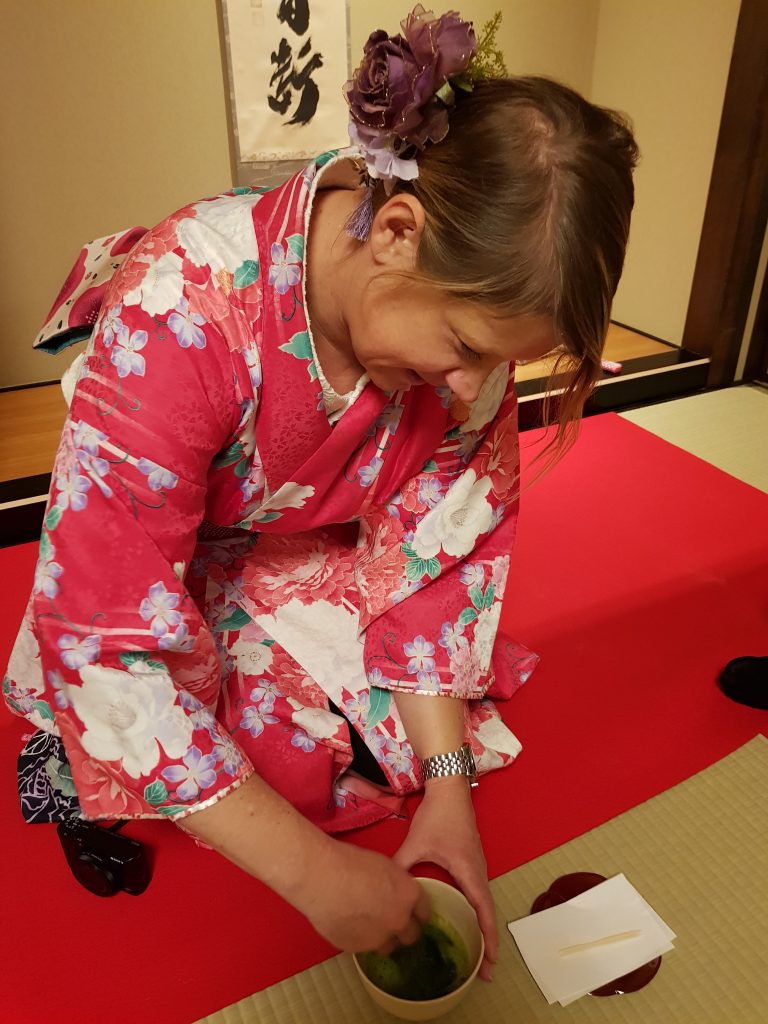 JAKU: Tranquility. Jaku is not an effortful process, it is the natural result of practicing harmony, respect and purification that leads to peacefulness and calmness that give people the power of controlling their worldly desires.
The philosophy of zen suggests that simple actions in daily life (e.g. carving the wood, brushing a script, etc.) leads to awakening.
When performing the tea ceremony, the simple action of preparing tea with a clear mind paves a way to the awakening of our souls.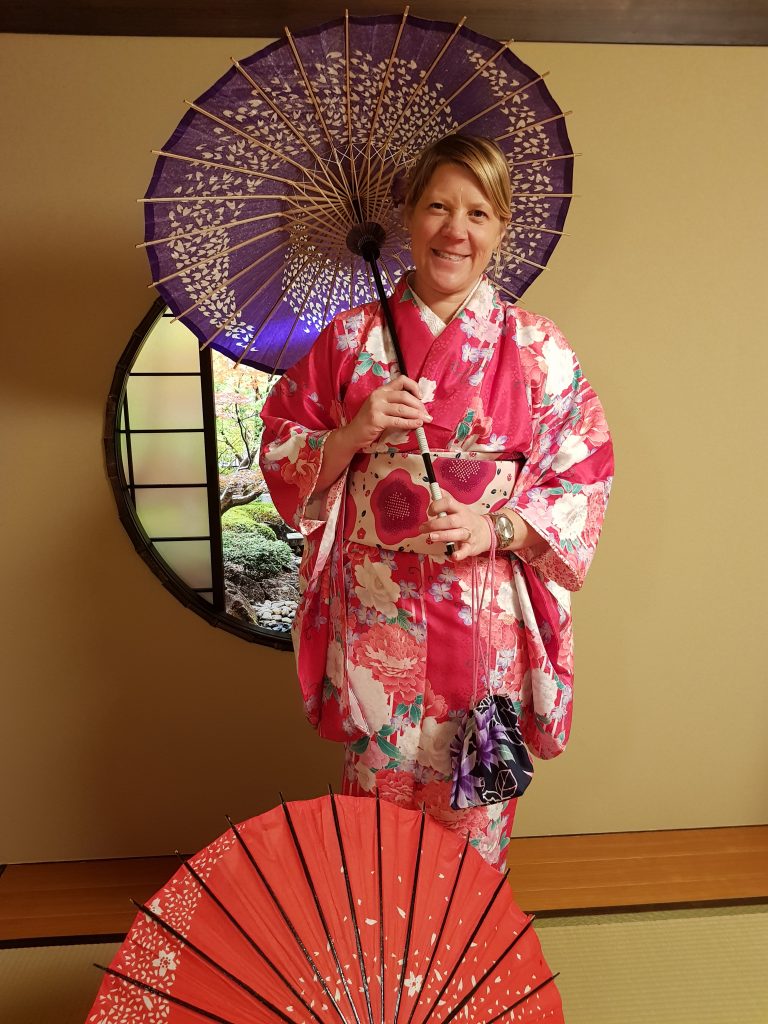 One does not have to think about the intricate processes of tea ceremony and smoothly moves with nothing in mind that creates inner peace the realization of self.
We should remember that the ultimate rule of awakening is the "presence" at the moment and understanding the true "self." Thus, tea ceremony helps individuals deepen their connection to their inner spirit.
This ceremony was 期一会" "ichi-go-ichi-e" – a once in a lifetime experience and I can't recommend it enough!
Samurai Cruises
Instead of going to the Robot or Maid Cafe, we enjoyed an amazing evening on the water with Gozebune Atakemaru Samurai Cruises.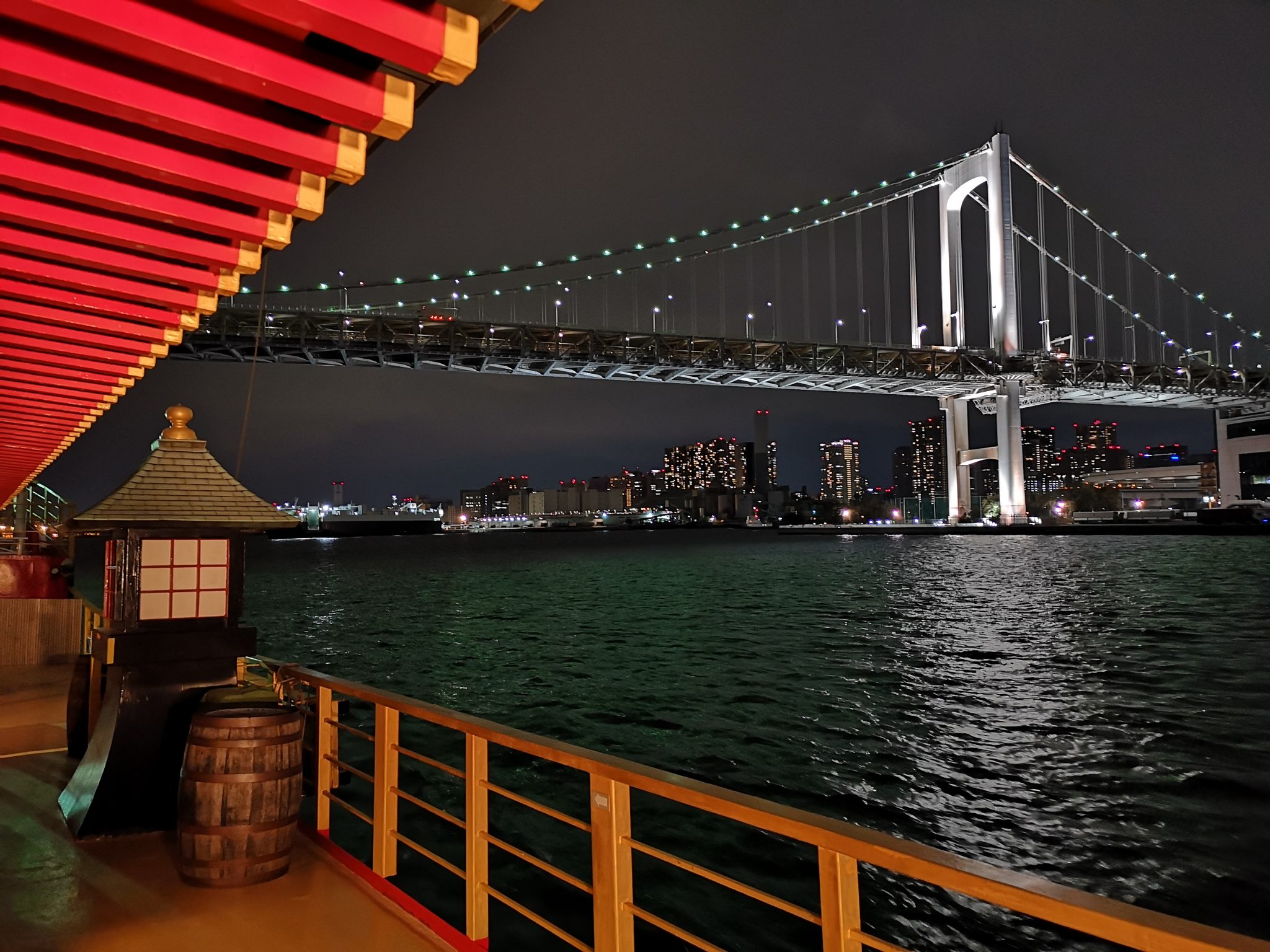 Not only was the amazing to see Tokyo from the bay at sunset, but the on-board performances also gave us insight into another aspect of Japan culture.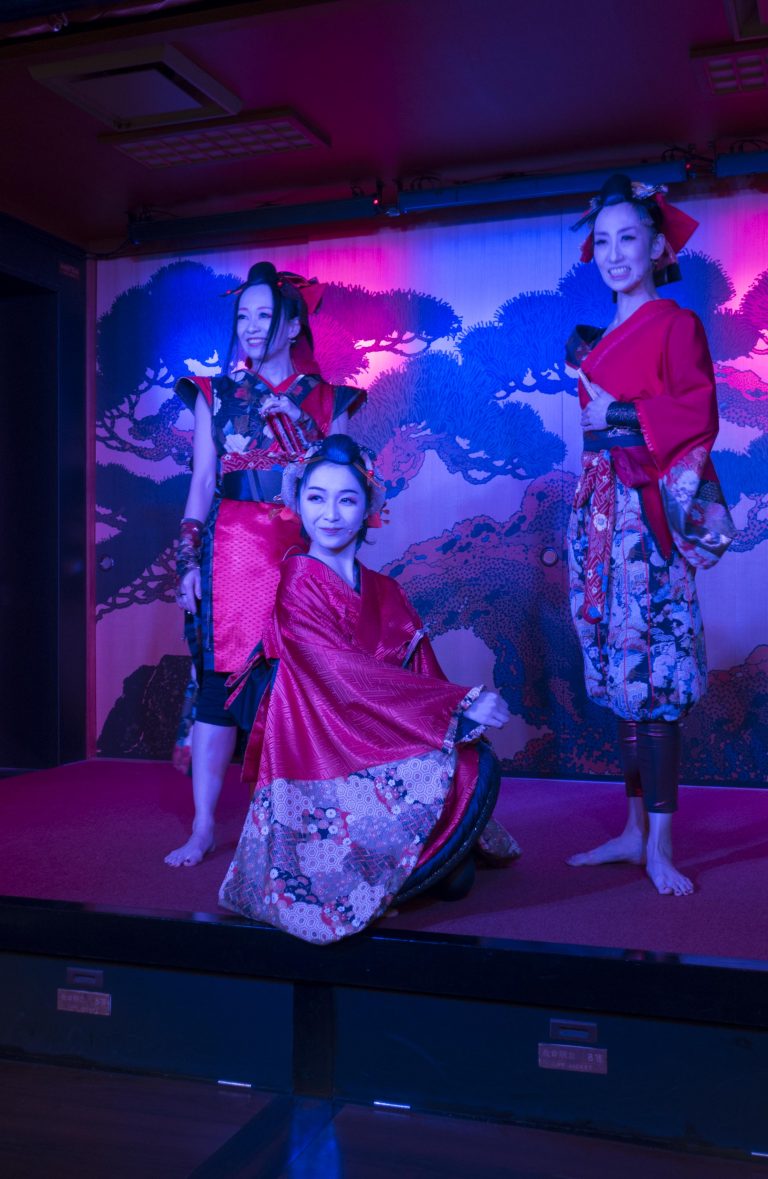 Kabuki is a traditional storytelling experience about told through exaggerated music and dance.
Unlike Western stage shows, there isn't a formal storyline and often even the Japanese don't understand what's going on.
But it's not about the story really, it's about the experience and the interaction with the audience.
It was started in 1603 and traditionally was performed by women whose 'services' were available after the show.
Kabuki became the main style of entertainment, attracting a diverse crowd who would visit the shows from morning to setset – eating and drinking in between in the teahouse nearby.
And the Kabuki style of clothing and make-up was a huge influence on pop culture in Japan.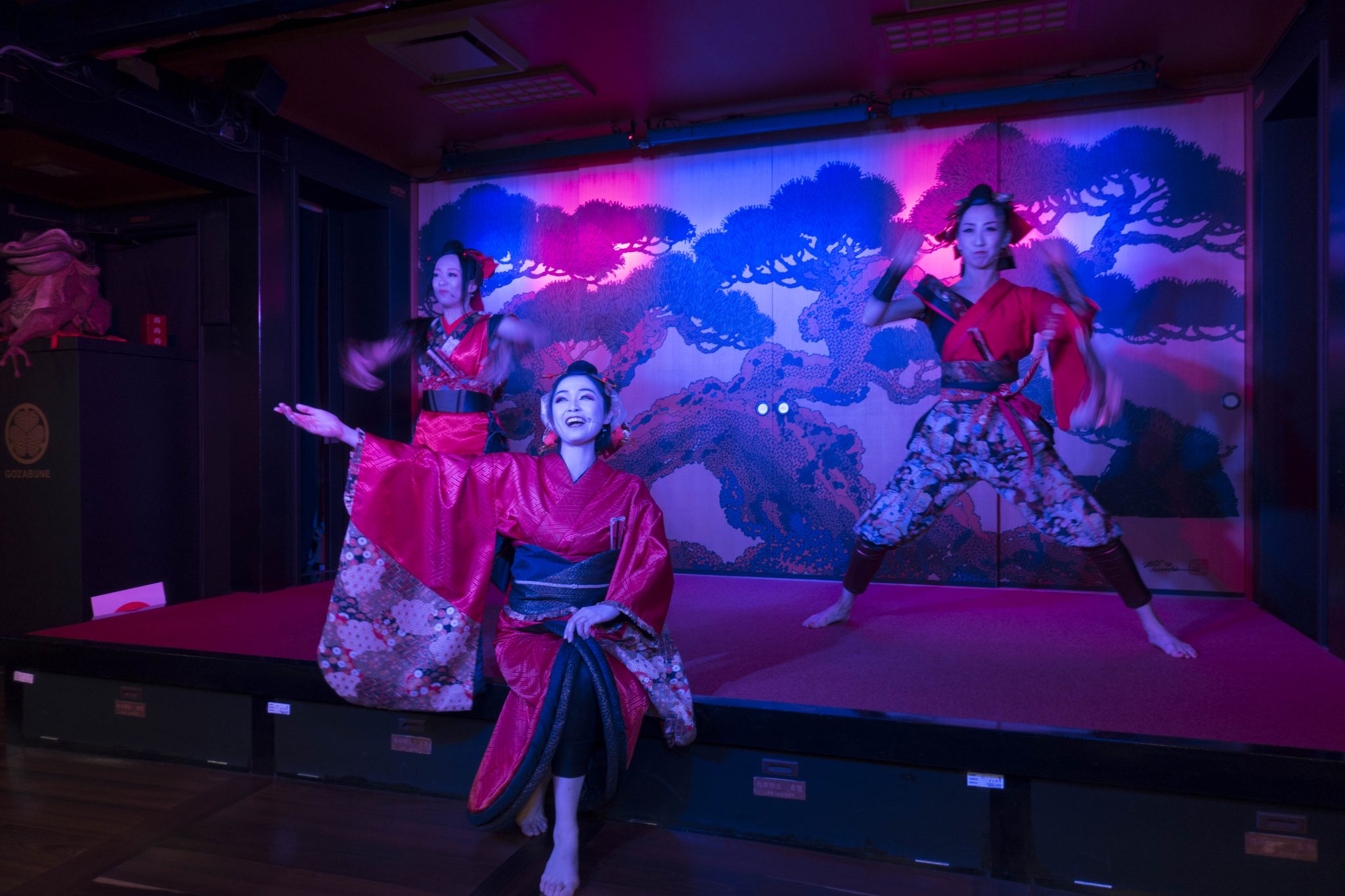 The Tokugawa shogunate, the leader of Japan at the time, ended up banning women from performing in 1629 for being too erotic and over the coming years, it was performed by young boys, then men who even now continue to play both male and female roles.
The style of kabuki on Atakemaru is performed by women who play both roles – the seductrice and the samurai and their singing and dancing is just exceptional.
And they took a lot of time to connect with each group in the audience, singing happy birthday to some and asking all about others home or culture.
It turns out they have performed quite a few times in France so I hope to see them here in the future.
It was definitely one of the most joyous experiences we had.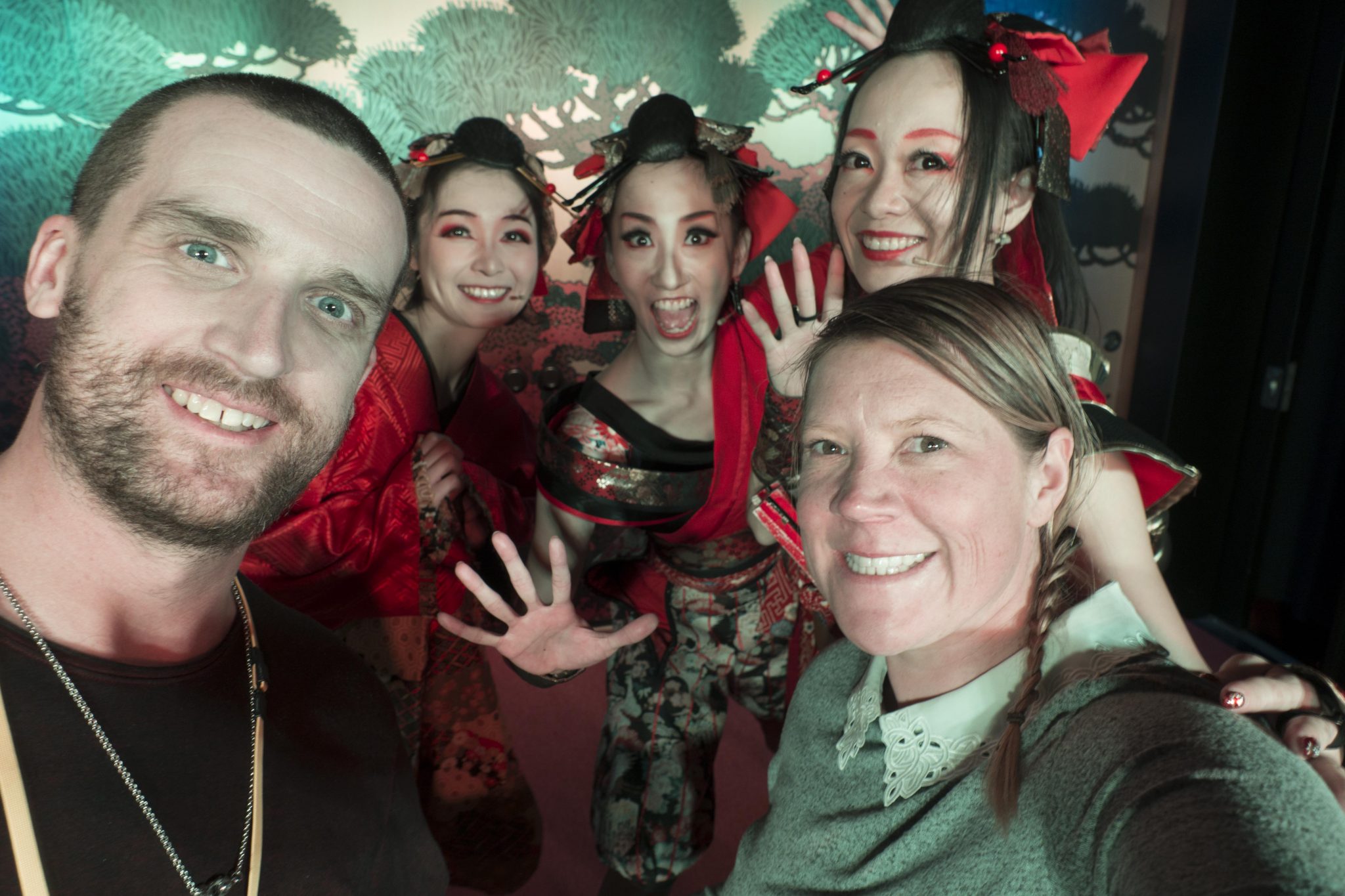 Reflection
Japan and Japanese culture gave me an undeniable feeling of peace, serenity and mutual respect.
I felt safe and welcome everywhere.
Japanese people were kind and very respectful and took their time to do everything with care and grace.
It took a little getting used to – things like waiting 10 minutes for a takeaway coffee, but when you observe the care they are putting in – you feel like every cup us special.
The ideal that has stuck with me the most is Jaku: the natural result of practicing harmony, respect, and purification that leads to peacefulness, calmness, and control of our worldly desires.
These ideals have very much been at the forefront of my learning and growth as a person over the past few years in overcoming trauma and depression.
And I really felt like our trip to Japan was the next stage in my learning.
I find when I am able to give each task in life an equal amount of time, respect and care, it becomes so much more valuable, even if it's menial and reminds me that life is a marathon. Not a 100m sprint.
I can't wait to return to Japan!