The number one priority for sustainable living is always to reduce waste.
That's it, plain and simple.
It doesn't mean we have to go without our favourite moisturiser or Christmas presents.
Just that we choose each purchase wisely and with thought. Consciously selecting each item in our lives for its value, versatility or joy.
These items should be long-lived, used until the end or able to be disposed of ecologically through recycling or reuse.
Many of the products available in supermarkets don't come anywhere near these criteria and instead contribute to:
Harsh ecological practices that waste natural resources and add toxic chemicals to our bodies and planet.
The loss of habitats and species diversity through deforestation for timber and palm oil.
Large quantities of non-recyclable plastic items littering oceans and waterways.
Cruel testing on animals.
With so many of us home right now, its the perfect time to put in a little research and find the best products for ourselves and the planet.
Sustainable home swaps
This week I've been creating a list of all the day-to-day home products I use in my house and investigating where I could make swaps.
The criteria I've set for new products are:
100% plastic-free packaging
Made from natural ingredients
Recyclable or reusable
Not tested on animals and/or vegan
HERE is my current list and I would love to know any products you are using or have found with good success.
You may have noticed, all my products (with the exception of my toothbrush) came from one shop in the UK, Plastic Freedom.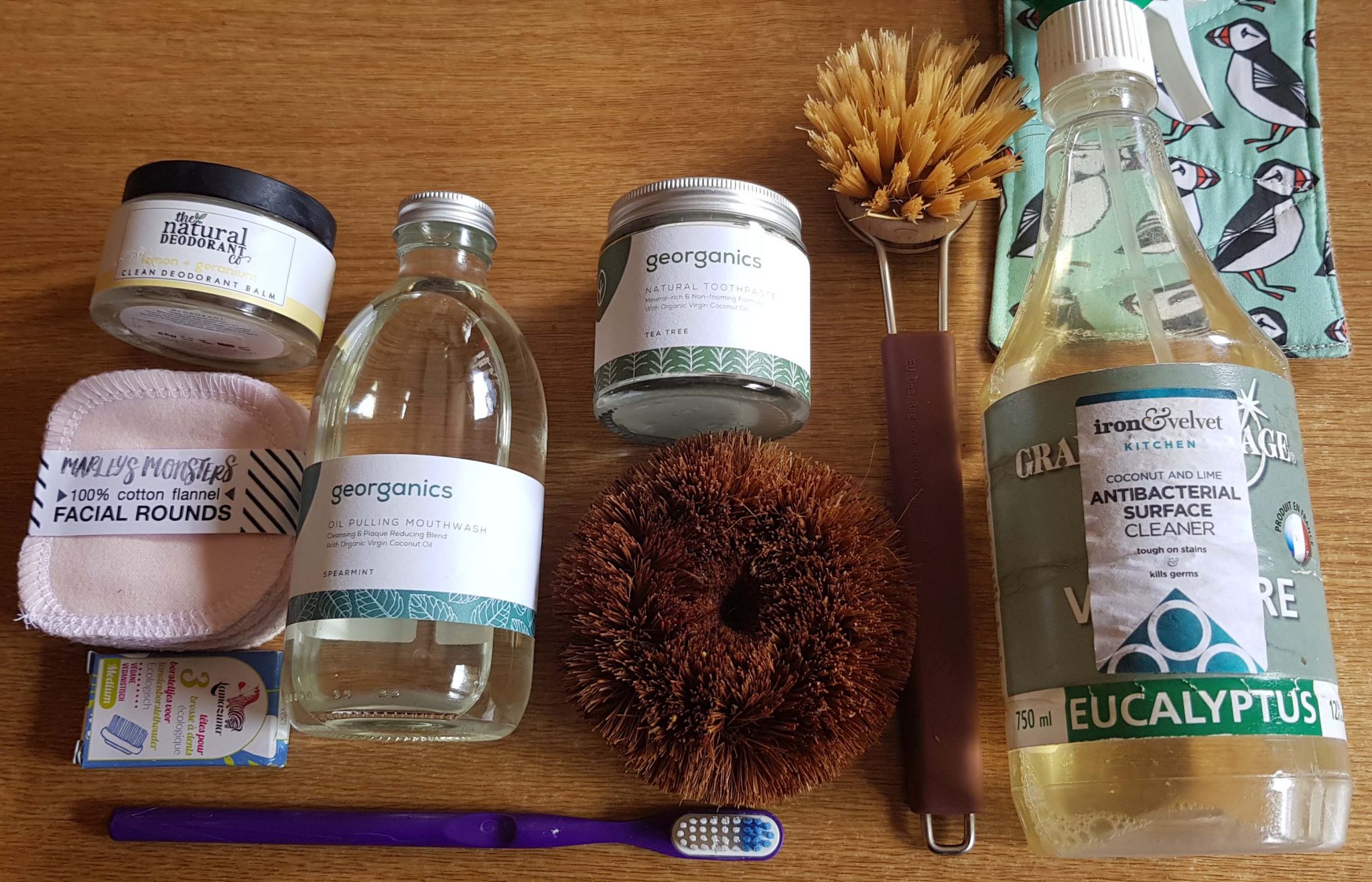 I absolutely love Plastic Freedom, they stock every awesome plastic-free (and vegan) product you can imagine and deliver in a recyclable box with the cutest tissue paper. I keep both and use them to wrap presents.
However, I am aware that by not buying locally, I'm contributing to global carbon emissions and my carbon footprint.
Currently, to reduce this impact I only order 2 times a year and off-set the carbon footprint associated with transportation by supporting carbon offsetting projects (more on this below).
Refuse, reduce, reuse, recycle, rot
When buying any new product, consider what criteria are important to you and where it sits in the categories presenting above (i.e.):
Refuse: Non-recyclable, plastic packaging, any item containing chemicals and products tested on animals
Reduce: Products that have a negative environmental impact, overexploitation natural resources or harm animals.
Reuse: Any rechargeable or multi-use product until the very end of its lifetime (appliances, jars, packaging). Store it well and keep it clean/dry for prolonged use.
Recycle: Purchase natural products with easily dscomposed packaging and/or a solid recycling plan.
Rot: Return any organic or natural product to the earth via compost.
Any waste that goes to the landfill is typically burnt, releasing methane gas into the atmosphere.
A key contributor to climate change.
Over the next few weeks, I will be researching each of these topics in-depth to see how we can reduce our impact at home.
The core purpose of reducing waste is to reduce the major negative impact we have on the planet, through the production of carbon dioxide (CO2).
Every item we consume has a value of CO2 associated with its production and transportation.
And while it's easy to point the finger at industry and say that they need to reduce or change their production, as long as we buy their products, we continue to contribute to the problem.
Carbon costs
Over the last 10 years, there has been a 13.84% increase in CO2 emissions worldwide from 28,845MT per annum to 32,840MT.
However, if you look at the data, many developed countries have actually seen a marked decrease in their CO2 emissions, with the exception of Australia:
Europe -16% (3923MT to 3209MT)
UK -33.64% (532MT to 353MT)
USA -14% (5703MT to 4896MT)
NZ -5.88% (34MT to 32MT)
Australia +4.43% (366MT to 383MT)
These reductions have come through changes in industry and the reduction in the burning of fossil fuels for heat and electricity.
Whereas developing countries have seen an increase in CO2 emissions due to an increase in the burning of fossil fuels for heat and electricity:
Asia +35% (156MT to 211MT)
Africa +36% (865MT to 1185MT)
Central & South America +26% (912MT to 1150MT)
China +70% (5449MT to 9302MT)
Overall, the primary net increase in carbon emissions worldwide is due to the transportation sector which includes:
Road transportation: cars, freight, and light-duty trucks = 72%
Marine shipping = 14%
Global aviation = 11%
While the electricity and heat sectors are still the largest overall contributor to CO2 emissions, transportation is the fastest-growing – increasing 24% over the past 10 years.
If you are interested to understand your carbon footprint and how our daily practices contribute to global CO2 emissions, try this carbon footprint quiz, created by WWF.
Here are my results: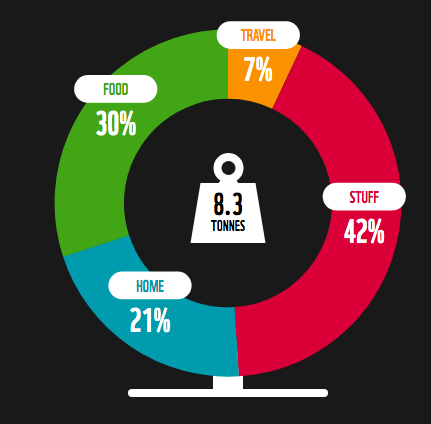 Researching for this blog, it really hit me how I have a direct impact on the world around me through my consumption – even though I really try to be as environmentally friendly.
As an interim solution to counteract my impact, I've decided to offset my carbon footprint of 8.3T by supporting a carbon offsetting project.
This year I'm supporting this project which aims to protect the Chyulu Hills in Kenya. A forest area of 400,000ha, one of the last strongholds for the black rhino and home to the Maasai.
After finding this project on Cool Effect and validating it via Gold Standard, I made my donation via the African Wildlife Foundation who is regulated by Charity Navigator.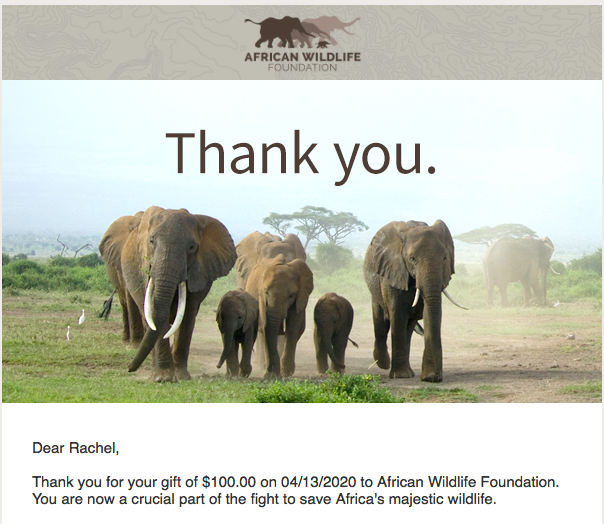 At only €100 for all of my carbon production this year – it felt like a steal!
Over the next few weeks as I look more into the 5 R's of zero waste living, I plan to assess how each process contributes to my carbon footprint and what I/we can do to make it as low as possible.
I hope you will join me 🙂
Resources